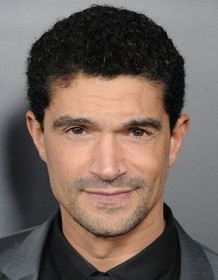 Mido Hamada
Highest Rated: 72% American Sniper (2014)
Lowest Rated: 35% The Situation (2006)
Birthday: Not Available
Birthplace: Cairo, Egypt
Mido Hamada was an Egyptian-German actor who appeared in films and TV shows, most notably "24" (Fox, 2001-10, 2014), "Homeland" (Showtime, 2011- ), and "American Sniper" (2014). Born in Cairo, Egypt and raised in Germany, Hamada was a stellar athlete as a boy. As a teenager, sports were Hamada's primary focus but after an unexpected injury he realized he'd have to find a new passion. It was at that moment that he discovered acting. Now determined to make it as an actor, Hamada moved to England to study the craft at the Oxford School of Drama. Before long he was appearing in plays on London's West End, thus making a name for himself as a young stage actor on the rise. In the early 2000s Hamada began auditioning for film and TV roles. He nabbed his first film role in 2004's "Sky Captain and the World of Tomorrow," which also starred Jude Law and Angelina Jolie. Hamada continued landing roles over the next two years before nabbing his first big break in 2006 when he appeared as Massoud on the mini-series "The Path to 9/11" (ABC, 2006). The exposure he gained from that role allowed Hamada to continue picking up various parts on TV shows throughout the remainder of the decade, among them "State of Mind" (Lifetime, 2007) and "24". Hamada briefly returned to film acting in 2014 with an appearance as The Butcher in the Oscar-winning biographical drama "American Sniper," while continuing to work steadily on television. In early 2017 he began appearing in "Emerald City" (NBC, 2017), which were inspired by the series of fantasy "Oz" books written by L. Frank Baum. After tepid reviews, however, "Emerald City" was cancelled in May of 2017. Undeterred, Hamada nabbed a supporting role on "Counterpart" (Starz, 2018) in early 2018.
Photos
Mido Hamada at arrivals for COUNTERPART Series Premiere on STARZ, Directors Guild of America (DGA) Theater, Los Angeles, CA January 10, 2018. Photo By: David Longendyke/Everett Collection
The Dovekeepers, Mido Hamada (L), Cote De Pablo (R), 03/31/2015, ©CBS
The Dovekeepers, Diego Boneta (L), Mido Hamada (R), 03/31/2015, ©CBS
THE SITUATION, Connie Nielsen, Mido Hamada, 2006. ©Shadow Distribution Inc.
Filmography
Movies
TV
| | | | Credit | |
| --- | --- | --- | --- | --- |
| 100% | 89% | Counterpart | Cyrus (Character) | 2018-2019 |
| 38% | 78% | Emerald City | Eamonn (Character) | 2017 |
| 33% | No Score Yet | The Dovekeepers | Eleazar Ben Ya'ir (Character) | 2015 |
| No Score Yet | 70% | Hawaii Five-0 | Unknown (Guest Star) | 2014 |
| No Score Yet | 67% | NCIS: Los Angeles | Unknown (Guest Star) | 2014 |
| 85% | 86% | Homeland | M.M. (Guest Star) | 2012 |
| 62% | 67% | Terra Nova | Unknown (Guest Star) | 2011 |
| 87% | 86% | 24 | Samir Mehran (Guest Star) | 2010 |
| No Score Yet | 85% | NCIS | Prince Abdalla Ibn Alwaan (Guest Star) | 2010 |
| No Score Yet | No Score Yet | State of Mind | Taj Kalid (Character) | 2007 |
| No Score Yet | No Score Yet | The Path to 9/11 | Unknown (Character) | 2006 |