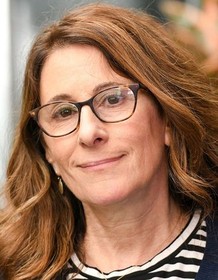 Nicole Holofcener
Highest Rated: 100% Sophie Jones (2020)
Lowest Rated: 32% Every Secret Thing (2014)
Birthday: Mar 22, 1960
Birthplace: New York, New York, USA
Praised by critics and audiences alike for her relatable writing and unique directing style, filmmaker Nicole Holofcener was born in New York in 1960. Holofcener had an inside look at the film industry from an early age, especially after her family relocated to Santa Monica when she was 12, as her stepfather Charles Joffe was the executive producer on several of Woody Allen's films. In fact, one of Holofcener's first forays into the business was as a production assistant on Allen's "Midsummer Night's Sex Comedy" (1982). After attending Tisch School for the Arts, Holofcener completed her first short film, "Angry" (1991), which was shown at the Sundance Film Festival, and helped her attract the backing to make her first feature film. "Walking and Talking" (1996) would prove a refreshingly nuanced take on relationships between women, as well as cementing an ongoing partnership between the director and actor Katherine Keener. Holofcener's next feature, "Lovely & Amazing" (2001) garnered similar buzz, as did "Friends with Money" (2006) and "Please Give" (2010), which also dealt both incisively and humorously with issues of income disparity and class. "Enough Said" (2013) found Holofcener working with actor James Gandolfini on what would prove to be one of his last projects before his untimely death in 2013. In 2014, Holofcener took a step back from directing, penning the screenplay for the crime thriller "Every Secret Thing" (2014) for director Amy Berg. Holofcener next adapted Lee Israel's memoir Can You Ever Forgive Me? intending to direct the project herself, but was forced to hand the highly acclaimed picture off to Michelle Heller due to a scheduling conflict as she set to work directing another script she had recently adapted from a book, "The Land of Steady Habits" (2018) starring Ben Mendelsohn.
Photos
WALKING AND TALKING, director Nicole Holofcener, Catherine Keener, on set, 1996. (c)Miramax
PLEASE GIVE, director Nicole Holofcener (center of frame), on set, 2010. ©Sony Pictures Classics
FRIENDS WITH MONEY, Greg Germann, director Nicole Holofcener, Frances McDormand on set, 2006, (c) Sony Pictures Classics
LOVELY & AMAZING, Director Nicole Holofcener on the set, 2001
LOVELY & AMAZING, Director Nicole Holofcener on the set, 2002
ENOUGH SAID, from left: director Nicole Holofcener, James Gandolfini, Julia Louis-Dreyfus, on set, 2013. ph: Lacey Terrell/TM and ©Copyright Fox Searchlight. All rights reserved.
ENOUGH SAID, from left: Julia Louis-Dreyfus, writer/director Nicole Holofcener, Catherine Keener, on set, 2013. ph: Lacey Terrell/TM & copyright ©Fox Searchlight. All rights reserved
PLEASE GIVE, from left: Catherine Keener, director Nicole Holofcener, on set, 2009. ph: Piotr Redlinksi/©Sony Pictures Classics