Please Give
(2010)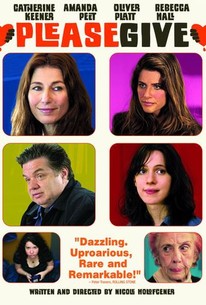 TOMATOMETER
AUDIENCE SCORE
Critic Consensus: Nicole Holofcener's newest might seem slight in places, but its rendering of complex characters in a conflicted economic landscape is varied, natural, and touching all the same.
Movie Info
Kate has a lot on her mind. There's the ethics problem of buying furniture on the cheap at estate sales and marking it up at her trendy Manhattan store. And how much markup can she get away with? There's the materialism problem of not wanting her teenage daughter to want the expensive things that Kate wants. There's the marriage problem of sharing a partnership in parenting, business and life with her husband Alex but sensing doubt nibbling at the foundations. And, there's Kate's free-floating 21st century malaise -- the problem of how to live well and be a good person when poverty, homelessness, and sadness are always right outside the door. Plus, there's the neighbors: cranky, elderly Andra and the two granddaughters who look after her.
People Who Like this movie also like
News & Interviews for Please Give
Critic Reviews for Please Give
Audience Reviews for Please Give
A deceivingly simple dramedy that's packs enough subtle, emotional complexity for multiple films. "Please Give" is a flawlessly acted showcase for one of the sweetest screenplays in recent memory. How do you NOT like this movie?
Here you have a one trick pony - something perhaps better suited as a TV sitcom... and it plays like one, sad to say. There's very little character development with each character a cardboard bit of archtype, providing very little tension as it slickly moves from predictable plot thread to predictable plot thread. In a nutshell, you have a New York couple who deal in "reclaimed" furniture. The big secret is how they get said furniture. You see, the couple, aptly played by Platt and Keener swoop in on estate sales and the like, taking advantage of those in mourning or those just unaware; picking up prime pieces for peanuts and then later selling them at huge profits. The one trick pony is that Keener is feeling guilty. How very un-capitalistic of her! Of course she realizes that if she and her husband weren't doing it, someone else would be (as the film shows in one of the few bright scenes, where another dealer takes advantage of Keener's feeling of guilt, getting a table for 4k which he then sells at his own shop for 7 - ain't America great?). Thrown into the mix is the totally superfluous role of the 15 year old daughter - who has no real purpose, but somehow the director decides to make into a major character anyway (the repeated riff on the 200 buck pair of jeans is boring and repetitive - and to end the film with her receiving the holy grail attempts to give this not so subtle statement about consumerism far more weight than it should. Of course even here, the message is mixed, as it could equally be argued that you get what you pay for. After several attempts at cheaper jeans (which don't fit), the daughter finally wins out when the expensive pair fit her better - and give the daughter a much needed boost in her self esteem (ooh, another message!). There is attempted black humor as Platt and Keener are waiting for the 90 year old woman next door to die so they can buy her apartment and tear down the walls to make their place larger. The old bag is direct to a fault, ha ha, and when you add in her two granddaughters, one a mouse who cares for grandma, and the other a shrew who predictably ends up bedding Platt, you get the kind of plotting and script that might last a full season as a "real life" sitcom. But as a feature film.... You have every right to expect more. I walked away from this film without an ounce of caring for any of the characters - the film played so trite and felt so scripted and melodramatic that I simply cannot believe all the wonderful reviews this high school play has received. Unreal and phony - if this is what "in the know" New Yorkers think is real - I'm eternally grateful I live on the opposite coast. In over 300 films reviewed, this one ranks near the bottom - not because it's spectacularly bad, but because it pretends to be art and a look at real life - and delivers neither one.
paul sandberg
Super Reviewer
I think that Nicole Holofcener has my kind of humor, that sort of mean-spirited, abrupt, non sequitur kind where you laugh really hard and then immediately afterward feel really bad for laughing. And I also like that there's always a tint of melancholy spotted in every stretch of dialogue, no matter what the mood. It brings you down to earth, somehow.
Jennifer Xu
Super Reviewer
Please Give Quotes
| | |
| --- | --- |
| Kate: | Old furniture has ghosts. |
| | |
| --- | --- |
| Andra: | You gained weight. You gained weight. |
| | |
| --- | --- |
| Alex: | We buy from the children of dead people. |