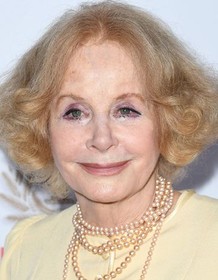 Sarah Miles
Highest Rated: 96% Hope and Glory (1987)
Lowest Rated: 17% Lady Caroline Lamb (1972)
Birthday: Dec 31, 1941
Birthplace: Ingatestone, Essex, England, UK
As talented as she was unconventional, British Actress Sarah Miles rose to the forefront of the British New Wave movement in films opposite Sir Laurence Olivier and Robert Shaw, and under such renowned directors as David Lean and Michelangelo Antonioni. She garnered critical acclaim in various London stage productions prior to miraculously landing her film debut as a co-star opposite her screen idol Olivier in the psycho-sexual drama "Term of Trial" (1962). Miles' torrid affair with Oliver - a then-married man old enough to be her father - would be one of many trysts carried on with some of film's biggest names throughout the years. Other projects like "The Servant" (1963), "The Ceremony" (1963), and "Ryan's Daughter" (1970) threatened to typecast her as a habitual adulteress, a trend only bolstered by the details of her personal affairs. Her turn opposite Burt Reynolds in "The Man Who Loved Cat Dancing" (1973) was overshadowed by the suspicious death of her personal manager on location, just as he admirable work opposite Kris Kristofferson in "The Sailor Who Fell from Grace with the Sea" (1976) was eclipsed by her and her co-star's onscreen nudity. After a rough patch, both personally and professionally, Miles gained a bit of much deserved respectability with more mature performances in films that included "Steaming" (1984) and "Hope and Glory" (1987). Although largely retired by the late-1990s, Miles continued to entertain with a series of tell-all memoirs, proving that real life can indeed often be more entertaining and salacious the anything committed to film.
Photos
BLOWUP, (aka BLOW UP, aka BLOW-UP), Sarah Miles, 1966
HOPE AND GLORY, Sebastian Rice-Edwards, Sarah Miles, 1987, (c) Columbia
LADY CAROLINE LAMB, Sarah Miles, 1972
LADY CAROLINE LAMB, Sarah Miles, 1972
THE MAN WHO LOVED CAT DANCING, Sarah Miles, 1973
THE CEREMONY, (aka ENCUCIJADA MORTAL), Sarah Miles, 1963
RYAN'S DAUGHTER, Robert Mitchum, Sarah Miles, 1970
THE HIRELING, Sarah Miles, 1973
THOSE MAGNIFICENT MEN IN THEIR FLYING MACHINES, Sarah Miles, 1965
RYAN'S DAUGHTER, from left: Sarah Miles, Christopher Jones, 1970 ryansdaughter1970-fsct06(ryansdaughter1970-fsct06)
THOSE MAGNIFICENT MEN IN THEIR FLYING MACHINES, Sarah Miles, 1965, TM and Copyright (c) 20th Century Fox Film Corp. All rights reserved. .
THE HIRELING, Sarah Miles, 1973
THE HIRELING, Sarah Miles, 1973
LADY CAROLINE LAMB, Sarah Miles, 1972
RYAN'S DAUGHTER, Sarah Miles, 1970
RYAN'S DAUGHTER, Sarah Miles wearing an Irish tweed hat on location, Dingle, Ireland, 1970
RYAN'S DAUGHTER, Robert Mitchum, Sarah Miles, 1970
RYAN'S DAUGHTER, writer Robert Bolt, Sarah Miles, on set, 1970
THE SAILOR WHO FELL FROM GRACE WITH THE SEA, Kris Kristofferson, Sarah Miles, 1976
THE SERVANT, James Fox, Sarah Miles, 1963
Filmography
Movies
TV
| | | | Credit | |
| --- | --- | --- | --- | --- |
| No Score Yet | No Score Yet | Dandelion Dead | Catherine Armstrong (Character) | 1994 |