The Servant
(1964)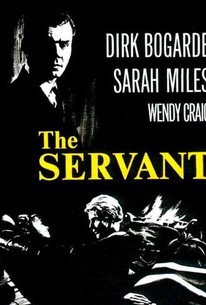 Movie Info
Wealthy wastrel James Fox hires insouciant cockney Dirk Bogarde as a valet. No sooner has he donned his working clothes than Bogarde begins exercising a subtle but insidious control over his master. Suggesting that the house could use a little fixing up, Bogarde convinces Fox to spend a whopping amount of money on it. But this is just a warm-up session for Bogarde, who by mid-film is calling all the shots in the Fox household, all the while pretending to keep his place. Fox's fiance Wendy Craig sees through Bogarde's game. Bogarde then brings his own lady friend Sarah Miles into the house. At Bogarde's insistence, Miles seduces Fox, thereby loosening Craig's hold on the confused young man. And so it goes. The homosexual subtext of The Servant disturbed some of the more hidebound critics of 1963; Harold Pinter based his cryptic screenplay on a novel by Robin Maugham. ~ Hal Erickson, Rovi
News & Interviews for The Servant
Critic Reviews for The Servant
Audience Reviews for The Servant
½
well i can only say this blew me away. losey is a very interesting director, showing flashes of brilliance even in his worst films, and it finally all comes together for him here, with a marvelous harold pinter script and once in a lifetime performance by dirk bogarde. superb
Stella Dallas
Super Reviewer
½
This is a superb, sinister movie of the very highest class. Unlike the character Tony (James Fox) who is upper class without being high class, if you get my drift. You cannot really sympathise with Tony, who toys with some high falutin' development projects but basically is a wastrel just waiting to be ponced off. Tony is a later-day Bertie Wooster. The sinister element comes from the servant (Dirk Bogarde), who is no Jeeves. Barrett, like Jeeves , is a gentleman's gentleman or valet (not a butler as suggested in some other comments on this film). Tony needs a valet because he is incapable of doing anything much without help. Barrett and his accomplice Vera (Sarah Miles) take Tony to the cleaners, sweeping aside the fiancee Susan (Wendy Craig) in their wake. Harold Pinter has written the screenplay in similar vein to the superb movie The Accident, also a Losey piece, which I also commend. The cinematography in both movies is simply excellent. The subject matter of The Servant suits Pinter, although much of the screenplay is not really in Pinter's voice. However, there is one scene, set in a restaurant, which includes a tiny cameo by Pinter himself and which contains a short Pinteresque exchange between two women. There is also one tense exchange between Susan and Barrett "do you wear deodorant" etc. which is very reminiscent of a scene in The Caretaker "you stink from arsehole to Thursday" etc. Indeed the story of The Servant resembles The Caretaker in many respects, except that in The Servant the interloper, Barrett, is on top and stays there, whereas in The Caretaker the interloper, Davies, lacks the skill and circumstances to dislodge the incumbent. There is a homoerotic undercurrent to the film and this works so well because it is an undercurrent (in 1963 there could have been no more than an undercurrent even if they had wanted more). The overt debauchery with Vera and the orgy party towards the end of the film is the only bit of the film that has aged without grace. But I quibble. This is a truly great film and it deserves to be more widely known.
Cassandra Maples
Super Reviewer
"The Servant" (most noted for it's collaboration between play write Harold Pinter and Director Joseph Losey and for Dirk Bogarde's BAFTA winning performance) is a bit to elusive to truly engage, but it's intoxicating photography, subtly creepy performances and enough homoerotic psychosexual mind games to fill three films, nearly make up for it. It's ending however seems almost too straightforward for it's twisty beginning and middle, but it at least gives you something to think about when it's over. "The Servant" is a dense film, and one that will engage anyone looking for a good mind game.
Steven Carrier
Super Reviewer
The Servant Quotes
There are no approved quotes yet for this movie.