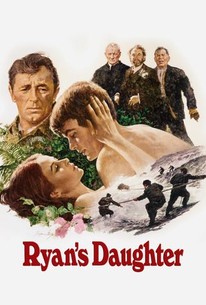 Ryan's Daughter
1970, Drama, 3h 26m
18 Reviews
2,500+ Ratings
Where to watch
Rent/buy
Rent/buy
Rent/buy
Rate And Review
Movie Info
A teacher's (Robert Mitchum) wife (Sarah Miles) has an affair with a British soldier (Christopher Jones) in 1916 Northern Ireland.
Rating: R

Genre: Drama

Original Language: English

Director: David Lean

Producer: Anthony Havelock-Allan

Release Date (Theaters): original

Release Date (Streaming):

Runtime:

Distributor: Metro-Goldwyn-Mayer
Audience Reviews for Ryan's Daughter
Not the best of Lean but certainly a gripping film nonetheless. One of the first movies to tackle the Troubles, it is aided by a solid performance by Robert Mitchum.

Yes, its definitely the weakest of Lean's epics but I don't think its worthy of outlandish scorn. The weak elements of the film (Mills' performance, the bloated running time) hurt but don't really undo the entire production . . . the film is still beautifully photographed and the Irish setting for a loose adaption of Madame Bovary works really well.

I know when I think of a dramatic study on an affair between a British military officer and the wife of a much older man and daughter of some Irish pub keeper, I think of a sweeping, three-and-a-half-hour mega epic. Well, this is David Lean, and if you had a film during the classic era that you needed forced into an epic, then he was your man, though maybe he probably shouldn't have been so much, because he could never figure out what level of scope he was supposed to use. The only Lean epic longer than this one was "Lawrence of Arabia", which still wasn't epic or long enough to get its many overwhelming plot points across smoothly, and yet, before that, Lean turned out "Bridge on the River Kwai", a war film that was mostly dialogue, minimal scope and altogether hardly an epic, though that didn't stop Lean from making it over two-and-a-half hours. Either way, Lean just loved to make epics, and about as sweepingly as he could get them in the '60s. Well, ladies and gentlemen, this is 1970 we're talking about, so of course, by this time, they had finally gotten built the capabilities to turn a minimalist romantic dialogue drama into, like, the "Lord of the Rings" of its time. Well, at least David Lean had a beach nearby for a lot of huge scope shots, and I suppose that's sweeping enough for this film to technically be an epic, though perhaps not a three-and-a-half-hour-long one. Eh, whatever, it's still a good film, but if you thought that "Bridge on the River Kwai" outstayed it's welcome, then, well, don't worry too much, because I suppose this film feels more like an epic than "River Kwai", so it's hard to mind all that much, though still not to the point of warranting a length this excessive. At 206 minutes, the film is a massive epic that just doesn't entirely warrant being an epic, let alone one the runs nearly three-and-a-half hours. Sure, writer Robert Bolt expands on the broadness of the story, while director David Lean provides his usual immense scope, yet no matter how much these two expand on Gustave Flaubert's classic "Madame Bovary", they can only do so much with so little before it becomes glaringly obvious that this initially minimalist concept can never drift far away enough from minimalist to meet Bolt's and Lean's vision for an epic. This unfitting marriage between minimalist and epic surprisingly isn't a terribly awkward one, yet it is very much a marriage of an inorganic nature that taints this film with disengaging uncertainty, or in some cases, all-out tonal unevenness. Actually more forced and disengaging than the epic feel is the epic length, because, as I said, this film has enough trouble trying to muster up enough sweep to turn something that is conceptually supposed to be not much more than two hours or so into an epic, and yet, here it is, shamelessly flaunting a runtime that dances dangerously close to the three-and-a-half-hour mark, and while this film's expansions on the source material are enough for the film to feel as though it warrants a reasonably hefty runtime, the final product still outstays its welcome by quite a considerable number of minutes that it obtains through forceful padding in story, as well as excess and expendable material that ranges from filler to dull nothingness (The final act, in particular, is riddled with extended periods of nothing going on), and with much repetition further slowing down the film's momentum by sending it in circles, and the occasional dull spot making it all the worse, the final product emerges occasionally aimless and often just a bit too loose, but disengaging either way. Still, the unevenness of the story doesn't just end with its being too long and too minimalist to be epic, as the film tackles many subplots and layers that don't quite gel especially comfortably, partially because many take over the film's focus too much and for too long, thus rendering the film's focus a touch confused and the overall final product even more damaged. With unevenness, dull occasions and both a runtime and sweep that doesn't really belong, the film stands as a mess that very much outstays its welcome, which isn't to say that the film ultimately collapses as underwhelming, because whether it be because of my rule that a film running almost three-and-a-half hours better be good or whatever, when it came down to it, I found that the film hit much more often than it missed, and certainly more often than the critics say. Really, with all of the other overlong, messy non-epic epics that have had critics lauding, I must admit that I'm a bit surprised that this film is a mediocrely recieved as it is (Just let it age for another ten years or so, and it'll be considered one of the greatest films ever made), for although it is a mess, at the end of the day it takes to watch this film, I would still have to deem it one of David Lean's best films, which may not be saying much at all coming from me, seeing as how I think that nearly all of his films are, to one extent or another, considerably overrated, yet regardless, I walked away rewarded, and by quite a few aspects. As I said, many of the expansions and liberties taken with the film's classic source material, "Madame Bovary", don't work, yet enough of the classically strong story still remains to provide much immediate and investment-worthy intrigue, made all the stronger by the adjustments in Robert Bolt's screenplay that genuinely do work, for although the story's epic translation is typically a messy one, when it hits, it really is effective, breathing into this film grand livliness that goes often messily but sometimes very sharply brought to life by David Lean's direction, as well as complimented by Freddie Young's delivering on the sweeping photography he was known for, particularly for this film. Sure, Young's photography has dated, so don't go in expecting this film to look as sensational as many people say it is, but do expect Young to deliver on many dazzlingly sweeping shots that compliment the film's epic feel, as well as quite a few celverly tight intimate shots that draws more from the substance, rather than style, and compliment dramatic depth, though not as much as the acting, which really does play one of the biggest parts in making this film a rewarding one, regardless of its other shortcomings. The secondary Michael character is billed as the village idiot, but really, he's pretty much a mongoloid, and John Mills steals the show in his portraying such a character with daringly creepy authenticity, as well as very subtle and effective emotional range, portrayed pretty much entirely through expressiveness, for Michael doesn't speak a word, which doesn't stop Mills from sharply conveying what competence there is in Michael, as well as Michael's good-heartedness, anguish and desire to belong, thus creating a sympathetic supporting character who isn't especially necessary to the story, yet remains a compelling addition, as he is so very well-played by Mills. Of course, while Mills does steal the show whenever he hits the scene, he's not the only performer who delivers, as David Lean was revolutionary in his sensibilities of providing material for truly upstanding performances, and does the very same here, providing promising acting potential that goes fulfilled by a variety of show-stealers, as well as our strong leads, from Robert Mitchum, who nails both an outstanding Irish accent and a sense of unease in his compelling portrayal of the Charles Shaughnessy character's noble intentions to provide for the considerably younger woman he loves but knows can never fully satisfy with him, to Christopher Jones, who portrays the trauma of the Major Randolph Doryan character with subtlety and piercing grace. As for leading lady Sarah Miles, needless to say, she definately has her work cut out for her, as her Rose Ryan character is initially spirited and affectionate in her youth, until she finds herself married to a man she thought she loved, but soon realizes is too old and too different, thus leaving her to feel trapped, until a lover comes along and restores much of her spirit, but not without implanting fear and further uncertainty that she's much too young for. Our titular young and flawed primary character presents quite the challenge for then-young Sarah Miles, and Miles delivers with near-effortless confidence, portraying Ryan's spirited presence's tainting by sudden and hard maturing with slick layers and emotional range, all built around a strong lead presence that often engages the audience and brings to life the Rose Ryan character, as both a flawed human and compelling primary focus. As with every other David Lean film, there is plenty to complain about, yet at the same time, there's still plenty to praise as razor-sharp for its time and still commendable to this day, for although the film is so overlong and messy, it was ultimately worth my time, maybe not so much so that it comes close to fulfilling its actually pretty strong potential, but decidedly so much so that I walked away more rewarded than not, and if this is your kind of film, then expect too see more than the critics saw, which is something that I never thought I would say about a David Lean film. When it's all said and done, the epic sweep over the minimalist story is often disengagingly inorganic, while the excessive length, as well as the occasional dull spot and some unevenness in story focus, further slows down the momentum of the film, until the final product finally finds itself falling quite a bit short of what it could have been, though not as considerably as many of the critics say, as the story remains worthy, and livened up by certain expansions and liberties in Robert Bolt's screenplay and David Lean's direction that really do work, as well as by Freddie Young's grand photography direction and a myriad of compelling performances, the most upstanding of which being by a show-stealing John Mills and leads Robert Mitchum, Christopher Jones and Sarah Miles, all of whom, and more, help in leaving "Ryan's Daughter" to ultimately stand as a mostly compelling and ultimately rather rewarding epic of a probably not-so epic drama, even with the many faults found in David Lean's overambitious vision. 3/5 - Good

Even though I hated this movie, I decided to be creative and present my review in the form of three haikus. Enjoy! RYAN"S DAUGHTER: Needlessly drawn out and boring love triangle. David Lean's big fail. There is no excuse: great cinematography can't save a snoozer. Despite some good scenes and production values, you should skip this dull mess.
See Details