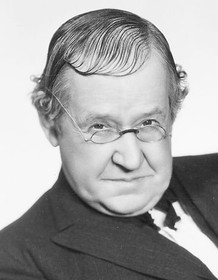 Spencer Charters
Highest Rated: 100% Whoopee! (1930)
Lowest Rated: 64% The Bat Whispers (1930)
Birthday: Mar 25, 1875
Birthplace: Duncannon, Pennsylvania, USA
Spencer Charters was an actor who had a successful Hollywood career. Charters's early acting career consisted of roles in various films, such as "April Folly" (1920), "Little Old New York" (1923) and "The Bat Whispers" (1930). He also appeared in "Whoopee" (1930), the comedy "Palmy Days" (1931) with Eddie Cantor and "The Front Page" (1931) with Adolphe Menjou. He kept working in film throughout the thirties, starring in the western "Whispering Smith Speaks" (1935) with George O'Brien, the Boris Karloff horror feature "The Raven" (1935) and the Jean Harlow comedy "Libeled Lady" (1936). He also appeared in the Dick Powell musical "Colleen" (1936). In the latter part of his career, he tackled roles in the comedy adaptation "Three Blind Mice" (1938) with Martha Young, "Mr. Chump" (1938) and "One Wild Night" (1938). He also appeared in "In Name Only" (1939) and the comedy sequel "Topper Takes a Trip" (1939) with Constance Bennett. Charters more recently acted in "Affairs of Jimmy Valentine" (1942). Charters passed away in January 1943 at the age of 68.
Photos
THE BAT WHISPERS, Una Merkel, Spencer Charters, 1930
THE LADY FROM CHEYENNE, Jessie Ralph, Loretta Young, Frank Craven, Spencer Charters, Edward Arnold, Robert Preston, 1941
THE BAT WHISPERS, William Bakewell, Spencer Charters, Charles Dow Clark, Ben Bard, 1930
THE ST. LOUIS KID, James Cagney, Hobart Cavanaugh, Spencer Charters, 1934
SCATTERGOOD SURVIVES A MURDER, from left, George Chandler, Margaret Hayes, John Archer, Wallace Ford, Spencer Charters, 1942
KENNEL MURDER CASE, Charles Wilson, Spencer Charters, William Powell, Robert McWade, 1933
BROADWAY BAD, Spencer Charters, Joan Blondell, 1933, TM & Copyright (c) 20th Century Fox Film Corp. All rights reserved.
20,000 YEARS IN SING SING, Spencer Tracy, Spencer Charters, 1932
MR. BOGGS STEPS OUT, Toby Wing, Tully Marshall, Walter Byron, Helen Chandler, Spencer Charters, Stuart Erwin, 1938
THREE BLIND MICE, Marjorie Weaver, Loretta Young, Spencer Charters, Pauline Moore, 1938, (c) 20th Century Fox, TM & Copyright
YOUNG MR. LINCOLN, Henry Fonda, Spencer Charters, Alice Brady, 1939, TM & Copyright (c) 20th Century Fox Film Corp. All rights reserved.
WHOOPEE!, Spencer Charters, Eddie Cantor, 1930