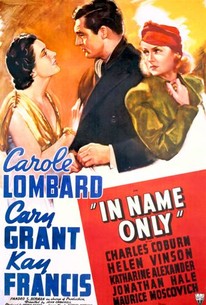 In Name Only
1939, Drama, 1h 42m
6 Reviews
500+ Ratings
Where to watch
Rent/buy
Rent/buy
Rent/buy
Rate And Review
Movie Info
Wealthy Alec Walker (Cary Grant) finds himself in a depressing and passionless marriage to Maida (Kay Francis), and is shocked to discover that she has heartlessly married him only for the prestige of his money and position. While horseback riding one day, Alec happens upon Julie Eden (Carole Lombard), a widowed fashion artist and mother of a 5-year-old daughter, and soon the two fall in love. Maida learns of his feelings for Julie, but instead of asking for a divorce, she negotiates.
Audience Reviews for In Name Only
Why RKO would shoehorn two of the brightest of the light comedy stars into a common soap opera melodrama is anyone's guess, but here it is, very nearly a parody - it's that bad. More interesting is the behind-the-scenes story of how Carole Lombard campaigned for her "box office poison" co-star, Kay Francis, to get to play the "bad girl" in this, and it's really the best part, or rather Francis makes it the best. She gives good bad. Lombard and Grant? Always quality, naturally.

This was a solid movie starring Cary Grant. The story is a romantic drama. Grant plays a character names Alec Walker. He meets and falls in love with a Julie Eden played by Carole Lombard. But there is one catch. He is already in a loveless marriage. His wife played by Kay Francis will not divorce him and wants to ruin Julie Eden life and good name. But this romance will not stop out of true love. Grant and Lombard are great together. Kay Francis plays the great conniving wife that wants to hold on to her marriage just for the money. Also I thought Helen Vinson was great as the best friend to Kay Francis that wanted to cheat with her husband but also acted as a villain as well. The movie has that drama side to it but overall this is a romance film. Well acted and a solid story. Worth a watch for Cary Grant fans or for those looking for a old time romance film.

Considering the three main stars a curiously obscure drama from the legendary year of 1939. Superior soap opera contains some of the best work Cary Grant, Carole Lombard and Kay Francis ever put on film. Carole shows that she wasn't just a superb comedienne but a skilled dramatic actress. Cary is just right in blending the facile with the seriousness of the untenable situation he finds himself in. As good as both of them are, and they are great, even better is Kay Francis, a portrait in silky malevolence. This was inexpicably almost the end of her film career, she ended up in Poverty Row junk only a few years later and after watching this it's hard to understand how this didn't open up a whole new chapter for her as the wicked woman of cinema. Perhaps she was just too early for noir, she would have been perfect as a poison pit viper in many of those pictures.

It's just further proof that women will fight to the death over Cary Grant. And who wouldn't?
See Details