Headless Horseman
(2007)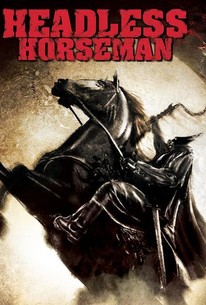 AUDIENCE SCORE
Critic Consensus: No consensus yet.
Movie Info
Seven teens on the way to a party discover that they're in danger of losing their heads to a vengeful ghost that won't stop killing until he's gathered enough gourds to make a complete collection in this low-budget shocker featuring Night Court's Richard Moll. Local legend around the "lost" town of Wormwood states that on All Hallow's Eve one-hundred years ago, a local lunatic tortured the town youngsters by submerging them in boiling oil. When the local townspeople discovered what was happening to their children, they ripped the man from his home and chopped off his head. Now, every seven years, the killer returns to claim another seven heads. Tonight is the night he is set to return to Wormwood, and as the unsuspecting teens make their way through the wilderness they wander right into town square. It's a foreboding place where bones line Main Street and the locals cower in fear of the supernatural wrath to come. Will these seven teens be able to keep their heads until the dawn sends this headless demon back to hell, or is it time for the savage specter's reign to finally come to an end?
Critic Reviews for Headless Horseman
All Critics (2) | Fresh (1) | Rotten (1) | DVD (1)
Pretends to be a spin on the Headless Horseman but really is just another rip off of "The Texas Chainsaw Massacre."
While there are certainly so big surprises here, Headless Horseman's nods to the genre and inventive noggin-chops make the detour worth taking.
Audience Reviews for Headless Horseman
½
A terrible excuse for a classic remake. TERRIBLE excuse. Where in this movie is the headless horseman? Because he's probably only in 5 minutes throughout the whole thing. SyFy...you dissapointed me with this one.
Jacob Palacio
Super Reviewer
Not one of the best but even not bad. A tiny bit similar to Texas ChainSaw Massacre Movie just replace the "Chain Saw" to a Sword or a Hook.
½
For a Sci Fi Channel movie, It was actually pretty good.I know this is definitely the best Sci Fi Channel movie I've seen.Even the ditzy girl I usually find so annoying in these groups of friend type movie wasnt so annoying & was funny.If they were all this good or at least halfway decent, I'd watch them all the time.
Brody Manson
Super Reviewer
Headless Horseman Quotes
There are no approved quotes yet for this movie.