City Limits
(1985)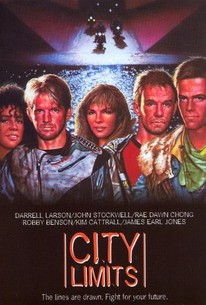 AUDIENCE SCORE
Critic Consensus: No consensus yet.
City Limits Photos
Movie Info
This bleak post-apocalyptic science fiction actioner substitutes a plague instead of a bomb as the reason for civilization's demise but the result is the same -- grizzly motorcycle gangs with a ton of gasoline to burn. In City Limits the older generation has been wiped out by the plague, and the younger generation lives in a state of anarchy in a world controlled by biker gangs. The gangs live by rules discovered in pre-apocalyptic comic books. Two rival biker gangs, the Clippers and the DAs, have taken to dividing up a city amongst themselves and live under a fragile truce. Utilizing a comic-strip version of medieval times, a code has been established for violations of the pact between the gangs -- competitive jousting or acts of reciprocal retaliation. When a person dies, like a post-Holocaust Viking funeral, he is cremated along with his motorcycle. But this shaky peace between the bike gangs is threatened when the fascistic Sunya Corporation attempts to take over the city with the cooperation of the DA bike gang.
Rating:
PG-13
Genre:
, , , ,
Directed By:
Written By:
In Theaters:
On DVD:
Runtime:
Studio:
Atlantic Releasing Corporation
Cast
Critic Reviews for City Limits
All Critics (0) | Fresh (0) | Rotten (0)
Audience Reviews for City Limits
In this cheesy apocalyptic film, a group of teenagers must stop the rivalry of two biker gangs which are ruling the remaining population after adults died from an outbreak. Extremely boring.
Sylvester Kuo
Super Reviewer
I'm assuming this was an attempt to cash in on '80s fads like "Breakin" to get the kids to come see a movie. This was pretty bad, but the MST3K episode was excellent.
Jeff Bachman
So yeah. There are bad movies that are so bad they're good. Then there are bad movies that are so bad, they're just plain bad and make you need to get the bleach to forget you ever saw this. And then there's movies like this: So much wasted potential and lack of any kind of interesting moments, development, or memorable characters, that I may as WELL have used brain bleach, because I honestly cannot remember any character's name (outside of Yogi, for obvious reasons I think), or what it was really about. So the plot is supposed to be two rival biker gangs that have run of a city in post apocalyptia. Big corp comes in, on behest of the Federal Government, to take it over from the two. This corp is completely underequipped, not even able to handle a single biker wandering in by accident, and have no armed guards... yet they have watch towers, as seen towards the end. While the major corp itself wasn't out to kill off the bikers, you'd think that they'd staff personnel with a BIT of protection, wouldn't you? Oh well, whatever. The reason this movie is bad isn't because of bad acting; though it has bad acting. It isn't because of a horrible plot idea; the plot actually has a lot of potential. It isn't even necessarily because of bad filming or directing, though it has plenty of that (the fight scenes are completely disjointed and the lighting is terrible; it's dark constantly, which is fine, but you make the film dark with the ability to see what's going on!) The reason it's a bad film is simply this: Too many characters, NO development, and NO explanation as to the plot. Background is given in snippets too jarring to understand, and leading to comical moments (like suddenly seeing people celebrating Christmas with a dead bike member, and one of the bikers is dressed like Santa; it seemed like we had wandered into a completely different film!) Dialogue is so quiet as to be almost impossible to hear. James Earl Jones is the only cool character in the movie, and he's only in it for about five minutes, if even that. Names aren't really dropped, so I went nearly the whole movie not knowing the protagonist's name -- which is fine, because he doesn't really accomplish much by the end. James Earl Jones is the real hero, and he does it with RC planes that explode somehow (they don't explain why; I assume the planes are loaded with C4, but it HELPS TO ESTABLISH THINGS, MOVIE!) If you want to see this film, see the MST3K version; which proves to be entertaining enough to be bearable, but not enough to save this film. Even with MST3K, I was bored out of my skull, with the monotony being broken infrequently. This film is an example why lack of establishment in a film -- of characters and the plot -- turns it into a completely lackluster, boring film. We see people do things, we don't see a plot unfolding, and it's hard to tell what's happening. There's two major biker gangs, but no real distinguishing features between the two -- no gang colors, no theme, just a mishmash of colors and styles that do not belong together. Everyone's wearing outfits that makes me swear that either the creators bought out a thrift store, or they were just recycling outfits from a ton of different movies with different genres... well, out of their trash heap, anyways. Wasted potential -- two biker gangs having to deal with a corporation in a post apocalyptic wasteland could be INTERESTING, even with a shoestring budget if you play your cards right. This film doesn't, and makes me feel like I've completely wasted my time watching it. There's no pathos for any of the characters, and the plot is so incomprehensible, it's difficult to tell what characters even accomplish during it. Terrible film.
Vincent DuBach
Discussion Forum
Discuss City Limits on our Movie forum!
News & Features