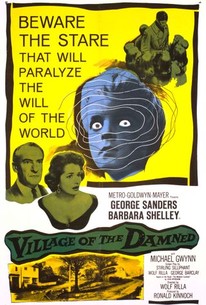 Village of the Damned
1960, Sci-fi, 1h 18m
40 Reviews
5,000+ Ratings
What to know
critics consensus
Chilling performances and a restrained, eerie atmosphere make this British horror both an unnerving parable of its era and a timeless classic. Read critic reviews
Where to watch
Rent/buy
Rent/buy
Rent/buy
Rate And Review
Village of the Damned Photos
Movie Info
One day the peaceful village of Midwich is cast into a mysterious sleep for several hours, but with no obvious consequences, until soon all the women of child-bearing age turn out to be pregnant. Their children are all born at the same time, and grow quickly into very spooky young people, with strange white-blonde hair and eerie eyes.
Audience Reviews for Village of the Damned
Word is that the film was moved from the US to the UK when American religious groups were concerned about the sinister way virgin births were depicted in the film. The location change helped the film's tone and the British children cast were excellent. (Simon Cowell's half-sister is one of the children). Highly recommended, Film's only drawbacks are the substandard special effects and rushed ending.

Interesting concept, but spends too much time on the exposition and not nearly enough time building tension.

Overall I wasn't very impressed though there are good parts. The last few minutes is really the best part.

Village of the Damned is an effective and creepy horror film that delivers effective chills. The film uses effective elements to build the horror. The film takes time to deliver its terror, and the buildup is slow, steady and it adds an eerie atmosphere to the film. The story is an effective horror tale which really does creep you out. The acting is terrific, and the story itself is well crafted to induce shock and dread into its viewer. For horror fans that are looking for a film with atmosphere, effective chills mixed with great acting, Village of the Damned is the film that you should see. This Sci Fi horror film is a classic of the genre, and still has the power to scare. The actors playing the kids are intense in their performances, and they deliver on-screen. Overall this is one of the most solid classic horror films of the 1960's. The pacing of the film is perfect for the unfolding horror halfway through the film. The films pacing is the key for the horror to work well. Mix that with the eerie atmosphere, and you have a memorable horror film. The actors that play the children are terrific, especially the actor who plays the leader, David. Martin Stephens is excellent as David and he brings such menace to the role. If you enjoy effective, chilling horror; Village of the Damned is the film to watch. A very eerie atmosphere and a great steady buildup make this an excellent unforgettable film that horror fans will love.
See Details