La Setta (The Devil's Daughter) (Demons 4) (The Sect)
(1991)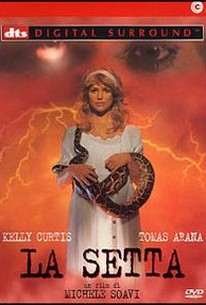 AUDIENCE SCORE
Critic Consensus: No consensus yet.
La Setta (The Devil's Daughter) (Demons 4) (The Sect) Videos
La Setta (The Devil's Daughter) (Demons 4) (The Sect) Photos
Movie Info
This stylishly photographed horror movie centers upon a beautiful, good-hearted schoolteacher whose life becomes a living hell after she is chosen to bear the son of Satan. Her horrible ordeal begins when an ancient enigmatic traveller places an ancient, supposedly extinct, insect up her nose. It crawls into her brain. She soon begins having terrifying dreams and more. When she learns the awful truth about her relationship with the Dark Master things get even worse. Still the baby is born and the poor woman faces a terrible and, genre-wise, surprising choice. ~ Sandra Brennan, Rovi
Rating:
R
Genre:
, ,
Directed By:
In Theaters:
On DVD:
Runtime:
Studio:
Republic Pictures Home Video
Critic Reviews for La Setta (The Devil's Daughter) (Demons 4) (The Sect)
There are no critic reviews yet for La Setta (The Devil's Daughter) (Demons 4) (The Sect). Keep checking Rotten Tomatoes for updates!
Audience Reviews for La Setta (The Devil's Daughter) (Demons 4) (The Sect)
½
'The Devil's Daughter' is an edgy, atmospherically ethereal cult classic from Italian producer Dario Argento and it adheres closely to Argento's penchant for dream logic but, contrary to the recent travesty 'Lords of Salem', director Michele Soavi intermingles beautifully frothy, idyllic reveries with the macabre (such as one spellbinding sequence in which Miriam's white robe is tethered to ropes and inexplicably a hideous stork-like creature materializes and pecks ravenously into her neck). Herbert Lom's schizophrenic, erratic behavior endears him as a Ernest Hemingway doppelganger who raves that religion "helps you die". Lom is definitely a shuddering presence in his short-lived cameo and the audience is ambivalent about his true intentions. The white-rabbit semiotics lend the film a fairy tale whimsy but it is quickly violated by the infernal circumstances. Of course, satanic-sect movies normally encroach into conspiratorial silliness involving dozens of peripheral characters, but 'The Devil's Daughter' is pretty airtight structurally and the intermittent goofiness (ala a fertility-symbolic insect that is implanted into Miriam's nostril) is offset by otherworldly stylishness (a handheld shot of water traveling through the pipes recalls early Peter Jackson and Sam Raimi).
Cory Taylor
Super Reviewer
½
As with the earlier La Chiesa (The Church), one comes away from La Setta (The Sect) feeling that if only Michele Soavi could get over the fact that he rather enjoyed Rosemary's Baby, he'd be eminently capable of making something extraordinary all of his own. To be honest, I haven't seen anything he made after this movie, so he may well have done it for all I know. Again, as with La Chiesa, Soavi pulls off some stunning visual coups and generates a strong atmosphere, though occasionally his set-pieces fail to deliver on the promise of their careful build-up, suggesting an unfavourable style to substance ratio. In particular, there is a wonderfully tense mortuary scene involving a coffin and a can-opener that peters out with an anti-climactic whimper.
Disturbing. Violent. Creepy but more gruesome than harrowing. Witchcraft imagery interwoven with supernatural elements. A bold coming-of-age drama not for the faint of heart. An innocent young woman must come to terms with new-found knowledge of her family suddenly revealed. Perhaps reminiscent of Rosemary's Baby but a more complex parable which at times can be hard to follow. The heroine turns out to be of a more courageous personal character than at first expected; given seemingly impossible odds and everyone against her, she withstands pressure from her father in a powerful life and death struggle involving hard choices and self-sacrifice. I liked the movie overall because it presented a different perspective on age-old themes. However, there were so many times throughout the film that I found myself yelling at the screen to the heroine: Why did you do that?!
Ann Lorraine
La Setta (The Devil's Daughter) (Demons 4) (The Sect) Quotes
There are no approved quotes yet for this movie.
Discussion Forum
Discuss La Setta (The Devil's Daughter) (Demons 4) (The Sect) on our Movie forum!