Wide Sargasso Sea
(1993)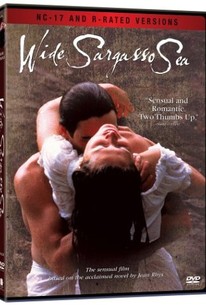 Movie Info
This provocative and erotic drama is based on Jean Rhys novel and chronicles the life of Antoinette, the mysterious Creole beauty who later became the "madwoman in the attic" of Charlotte Bronte's Jane Eyre (Rhys book was published long after Bronte)'s. It is set in Jamaica where Antoinette tries to keep her family's ruined plantation, which was burned down by angry ex-slaves, going. Poor Antoinette also tries to take care of her alcoholic and insane mother who fell ill after her second husband, an Englishman, abandoned her. When stodgy Edward Rochester first spies the exotic Antoinette, he finds himself alternately sexually inflamed and somehow repelled by her innate sensuality. The former wins out and he begins courting her without knowing about her mother's condition. It was her uncle who brought the Englishman to Jamaica to take over the estate. Edward marries Antoinette and finds her to be lusty and free. That coupled with the intense beauty and steamy heat of the island makes him quite nervous. Things begin going terribly awry when he learns the truth about her mother and Antoinette denies it. He then spends some time alone in a British settlement and finds his countrymen insufferably dull so he returns home to his wife, whom he really loves. Later he brings up the subject of her mother again and this time she confesses, causing Edward to coldly spurn her. In desperation, Antoinette visits a voodoo priestess and asks for a powerful love spell. It is when the spell works too well that Antoinette begins her own tragic descent into madness that culminates with the fire that comprises the climax of Jane Eyre.
Critic Reviews for Wide Sargasso Sea
Audience Reviews for Wide Sargasso Sea
I was attracted to the movie as I recently learned about what and where the Sargasso Sea is. There is not much to learn watching this movie however. Well perhaps you learn not to be born in the mid 17th century, and to treat your slaves with a little compassion.
Wide Sargasso Sea Quotes
There are no approved quotes yet for this movie.