The Bunker
(1981)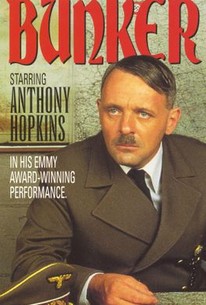 AUDIENCE SCORE
Critic Consensus: No consensus yet.
Movie Info
This exhaustive (and exhausting) 3-hour TV movie dramatizes the last three months of Adolph Hitler's life, spent in his bunker in Berlin. Anthony Hopkins is repulsively riveting as Hitler, while Piper Laurie is even more frightening as fanatical Frau Goebbels. Joseph Goebbels (Cliff Gorman) feeds the Fuehrer's ego as the Nazi empire crumbles, while Albert Speer (Richard Jordan) defies him. The day before his suicide, Hitler legalizes his relationship with mistress Eva Braun (Susan Blakely). The film's plot extends beyond the suicide, with the triumphant allied forces arguing orver who has proprietary rights to Hitler's remains. First telecast January 27, 1981, The Bunker was based on Joseph O'Donnell's best seller, which in turn was based on first-hand accounts.
Rating:
NR
Genre:
,
Directed By:
Written By:
In Theaters:
On DVD:
Runtime:
Studio:
Societe de Francais Production
Critic Reviews for The Bunker
There are no critic reviews yet for The Bunker. Keep checking Rotten Tomatoes for updates!
Audience Reviews for The Bunker
Riveting account of the end. TV film has Emmy winning Anthony Hopkins (Adolf). Even as Adolf Hitler lived months in his deep underground bunker he insisted Germany would be victorious to Eva Braun (his bride to be). There is so much disbelief by the war's end by the Generals and staff surrounding Adolf (even an assisnation plot) we can hardly believe the near insubordination by everyone were it not for the credible book the movie is based upon. SEE a clip from the early part of the film: http://www.youtube.com/watch?v=2bHFO19dVbE [img]http://upload.wikimedia.org/wikipedia/en/thumb/1/16/The_Bunker_1981.jpg/220px-The_Bunker_1981.jpg[/img] Stars Richard Jordan as confrontational Albert Speers. Jordan appeared in many U.S. Western films and usually if not always as a villain in any of John Wayne's latter career films. "The Bunker is a 1981 CBS television film, Time/Life production based on the book The Bunker. The film makes significant deviations from James O'Donnell's book, published in 1975. The deviations are mainly due to an effort to clarify the events and allow the actors license to interpret some of the dialogue he recorded." wikipedia [img]https://encrypted-tbn0.gstatic.com/images?q=tbn:ANd9GcTe64DmYUAMc1CSGbyW9EKPd7k-kBcwvcmfAJB1v8BNhPrNR_zgjA[/img] Hopkins Early on, Albert Speer (of the highest officers who report to the Der Fuhrer) goes to battle with Adolf over his scorched Earth idea. This was a policy to deprive the Allies of any value in Germany. Adolf is not used to being reprimanded by anyone so the early confrontation is engrossing to say the least. Most of the cast is either British or American so that comes off a bit weird. Being a television film does not detract from the film as much as we might suspect. SEE the entire film here: http://www.youtube.com/watch?v=PIFdkPh7IdQ [img]https://encrypted-tbn1.gstatic.com/images?q=tbn:ANd9GcQYVLy2vUCQ1CMiMSmr_Mv4N-4oXLlI_PMJe-Lw1FbXL-TNZTlPxA[/img] Inside the bunker tempers flair REVIEWS by those like us: 90% This is one of the best films made on Adolf Hitler, after Der Untergang (The Downfall). It shows the last few days Hitler spent in the bunker when Red... [img]https://encrypted-tbn2.gstatic.com/images?q=tbn:ANd9GcQJdmv2uBvMQXgkCLSI2vwdoMFSKntcJASF7Y9i4nzaqeIaDnNb[/img] NOTES: 1 The most noteworthy legacy of the film was Anthony Hopkins' portrayal of Adolf Hitler, for which he won an Emmy. Actors on the set claimed his performance was so convincing that those playing German soldiers snapped to attention whenever Hopkins came onto the set, even if he wasn't in character. 2 Albert Speer, German architect who was, for a part of World War II, Minister of Armaments and War Production for the Third Reich. Speer was Adolf Hitler's chief architect before assuming ministerial office. As "the Nazi who said sorry", he accepted moral responsibility at the Nuremberg trials and in his memoirs for complicity in crimes of the Nazi regime. 3 What's a bit annoying is the constant bombardment of Berlin in the background of every scene, inside or out of buildings. All we hear is bombs dropping in the distance, lots of them. [img]http://upload.wikimedia.org/wikipedia/commons/thumb/8/8c/Bundesarchiv_Bild_146II-277%2C_Albert_Speer.jpg/200px-Bundesarchiv_Bild_146II-277%2C_Albert_Speer.jpg[/img] Speer Anthony Hopkins as Adolf Hitler Richard Jordan as Albert Speer Cliff Gorman as Joseph Goebbels James Naughton as James P. O'Donnell Michel Lonsdale as Martin Bormann Piper Laurie as Magda Goebbels Susan Blakely as Eva Braun Martin Jarvis as Johannes Hentschel Michael Kitchen as Rochus Misch Robert Austin as Walter Wagner Andrew Ray as Otto Günsche Yves Brainville as Heinz Guderian Michael Culver as Wilhelm Mohnke Julian Fellowes as Nicolaus von Below Frank Gatliff as Ernst-Günther Schenck Terrence Hardiman as Hermann Fegelein Edward Hardwicke as Dieter Stahl Karl Held as Hans Baur David King as Hermann Göring Sarah Marshall as Traudl Junge John Paul as Wilhelm Keitel Morris Perry as Werner Haase Pam St. Clement as Constanze Manziarly John Sharp as Theodor Morell Michael Sheard as Heinrich Himmler Tony Steedman as Alfred Jodl Peggy Frankston as Margarete Speer [img]https://encrypted-tbn0.gstatic.com/images?q=tbn:ANd9GcSBr1dv8wrfYUwr6tTiURwnpAYxOR8EPBNF24hkZ4JOPqZM7aXc[/img] An Emmy Award for Anthony Hopkins as Adolf Hitler Directed by George Schaefer Produced by David Susskind Diana Kerew Screenplay by John Gay Based on The Bunker by James P. O'Donnell Country United States Language English Original channel CBS Time-Life Productions Release date January 27, 1981 Running time 154 minutes [img]https://encrypted-tbn2.gstatic.com/images?q=tbn:ANd9GcQz-QTum2i9Yc2eiq6L_Aryp7Cd_DL7G9WQJv95h-ImWG6nwG6ALw[/img] Hitler and Eva in better times (a flashback in the film)
monsieur rick
Dated and long winded but buoyed by great acting and atmosphere. It is creepy to see Hitler's mind and his empire collapse as if they are one.
Sean Chick