The Bridge
(2006)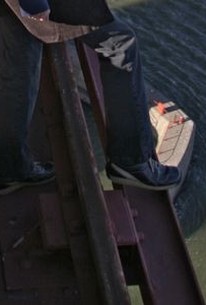 TOMATOMETER
AUDIENCE SCORE
Critic Consensus: Tactlessly morbid or remarkably sensitive? Deeply disturbing or viscerally fascinating? Critics are divided on Eric Steele's unique documentary on the Golden Gate Bridge, wonder of the modern world and notorious suicide destination.
Movie Info
The Golden Gate Bridge Is An Iconic Structure; A Symbol Of San Francisco, The West, Freedom - And Something More, Something Spiritual, Something Words Cannot Describe.
News & Interviews for The Bridge
Critic Reviews for The Bridge
Audience Reviews for The Bridge
½
The Bridge is a superb documentary that tells the story of The Golden Gate Bridge and its story about how it is among the most the popular suicide destinations in the world. The film shows actual suicides and it quite disturbing, sad and unnerving. This is a documentary that shows a darker side of this famous attraction. In a way this is a film that is necessary because it can maybe cause debate in preventing further tragedy on the bridge. San Francisco needs to put up some sort of barrier to prevent these things in happening. The interview from the family and friends are hard to hear and make you think. The questions and statements of the people that knew the victims are something that you can't forget. This is a film that will stay with you long after you've seen it. This is a very well crafted documentary, even if the film shows real suicides, I don't think it exploits the pain, quite on the contrary, it is a film that shows an important aspect of the bridge. Depression, Mental illness and hardships are reasons to do it, but often people ignore that cry for help, and don't feel sorry for them. However after seeing this film, you realize that some people need help, and the sad part is, is that most suicides on the bridge could have been prevented. This is hard to watch, but it tells an important story that you need to understand. The Bridge is a very good documentary, but due to its subject matter is only worth seeing once. The Bridge is a unique documentary, and there will never be a film quite like this.
½
"The Bridge" is a tough movie to watch. It's intensely somber. Debut director Eric Steel pointed his cameras at San Francisco's majestic and mysteriously powerful Golden Gate Bridge and found out something deeply disturbing. An extraordinary number of people jump off that bridge in broad daylight, and his cameras caught everything. It must have been a tremendously difficult decision, but Steel decided to build a project around suicide and use the actual footage. He and his team tracked down the family members of some of those who jumped and gently and compassionately interviewed them, hearing the terrible stories of how their family members' lives fell apart. Most jumpers had issues with mental illness; that is the overriding theme. But not all of them. As an artist, you can't get more meaningful material than this. This project pierces to the heart of the human experience. Unfortunately though, "The Bridge" isn't a great work of art. It's very good, but something's missing. After about an hour of hearing the stories of broken lives, I didn't feel that I was growing substantially from the experience. I commend Steel for his bravery and compassion. I'm just not sure if he found his way to lessons that were meaningful enough to build a film around. If you can handle looking into the face of complete despair, "The Bridge" is recommended. In some ways, I felt it was a way of honoring those who suffered so much. But it's also interesting to think about how this subject matter could have been treated in some better ways.
William Dunmyer
Super Reviewer
Eerie but completely fascinating. Like driving by a car wreck that you can't seem to take your eyes off of.
Randy Tippy
Super Reviewer
The Bridge Quotes
There are no approved quotes yet for this movie.