Race
(2008)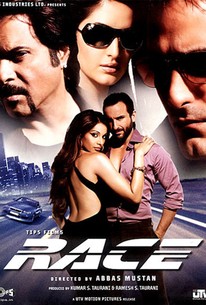 AUDIENCE SCORE
Critic Consensus: No consensus yet.
Movie Info
A family who make their living in the high-stakes world of horse racing fall prey to dangerous rivalries in this action drama from the sibling directing team of Abbas Burmawalla and Mustan Burmawalla. Ranvir Singh (Saif Ali Khan) runs a ranch in Durban, South Africa where he raises thoroughbred race horses and run them on the international racing circuit. Ranvir has brought up more than his share of champions, and he's made a tidy fortune through his hard work, willingness to take a chance and sheer ruthlessness. Ranvir's brother Rajiv (Akshaye Khanna) also works in the business, but he lacks his sibling's drive and prefers to drink and enjoy the spoils of success. Ranvir is dating a beautiful woman named Sonia (Bipasha Basu), but when Rajiv announces that he and Sonia have fallen in love and want to get married, Ranvir takes the news in stride and gives the couple his blessings. However, what Ranvir doesn't know is that Rajiv has more in mind than stealing his girl -- Rajiv and Sonia are planning to murder Ranvir and take charge of his empire. Race also stars Katrina Kaif as Ranvir's personal assistant and Anil Kapoor as a no-nonsense police detective.
Rating:
NR
Genre:
,
Directed By:
Written By:
In Theaters:
On DVD:
Box Office:
$1,327,606.00
Runtime:
Studio:
UTV Communications
Critic Reviews for Race
All Critics (3) | Top Critics (1) | Fresh (2) | Rotten (1)
Delivers solid, brainless entertainment thanks to a precision-built script and performances that are all in the same key.

A concoction of disjointed scenes dressed up as eye candy in the form of pretty boys and beauties in an absurd story that wouldn't even hold up in a fantasy world, let alone the real world it supposedly portrays.
[A] twisty, gorgeously shot and edited house of games with some of the all-out best action scenes you'll ever see.
Film Journal International
Audience Reviews for Race
Race (Abbas Alibhai Burmawalla and Mastan Alibhai Burmawalla, 2008) I won't say Race is the worst movie I watched this week-that dishonor goes to the painful Black Forest-but if the brothers Burmawalla were trying to come up with a bad American made-for-TV thriller, they couldn't have done a better job than this. Every time I watch one of those epic-length Bollywood films (and this one, clocking in just under 2:45, is actually pretty short for a big-budget Bollywood musical thriller), I find myself wondering how they're going to stretch the usually-thin story out to such a length. In this case, they didn't even try; every once in a while they just changed the story surrounding the core thriller, and any attempts to stick the surrounding pieces together were absent. Plot: Ranvir (Kal Ho Naa Ho's Saif Ali Khan) and Rajiv (Taal's Akshaye Khanna) are stepbrothers who run one of the world's most powerful Thoroughbred breeding operations. (It's not coincidence, methinks, that Khan bears a passing resemblance to Sheikh Mohammed bin Khalifa al-Makhtoum and Khanna to his brother Hamdan; the Makhtoum family actually do.) Ranvir is dating a high fashion model, Sonia (Jism's Bipasha Basou), but when Rajiv meets her, it's love at first sight. Not that Ranvir's complaining, his secretary Sophia (Ek Tha Tiger's Katrina Kaif) is a knockout herself. The two brothers are as close as can be on the surface, but it turns out there's all sorts of familial baggage there; in the opening scene of the film, there is an attempt on Ranvir's life, and we find out pretty early on that Rajiv was behind it. His second attempt, after Rajiv and Sonia have been married a few years, is more successful, and it turns out that Rajiv, who had a $20 million insurance policy on his brother, had forgotten about the fact that their father had a $100 million policy on each. Score! Enter, however, Inspector Robert D'Costa (Slumdog Millionaire's Anil Kapoor) and his assistant Mini (Darna Mana Hai's Sameera Reddy), who finds the whole thing suspicious. Pretty much every twist in this movie you'll see coming from a mile off (there was one that took me by surprise), and the scenery around them is so generic as to be utterly replaceable, with car chases galore, romance subplots that stumble over their own feet on a regular basis, improbable deaths and even more improbable returns, and of course a Poirot moment (where, in flashback, we see all the bits of the narrative we were missing that made it a mystery). The whole is patently ridiculous. The few places it does work are when the movie falls back on generic Bollywood trappings, for example the inevitable comedy that surfaces every once in a while; that works, in the often-uncomfortable Bollywood style. And, well, a car chase is a car chase, so if you're a fan of car chases, you'll be amused enough when it's happening. But those minor things probably won't be enough to leave you with a good feeling when the movie's over; they certainly weren't enough for me. **
Robert Beveridge
If you're looking for entertaining and cheesy with some good twists and turns, this is the movie for you!
Davey K
OMG this movie is sooooooooo hot.I luv the actors in the movie.They are great actor.I luv the way they act.OMG this is a really really reallly HOT movie!!!!!!!!!!!!!!!!!!!!!!!!!!!!!!!!!!!!!!!!!!!!!!!!!!!!!!
shaliza wahab
Race Quotes
There are no approved quotes yet for this movie.