Alien
(1979)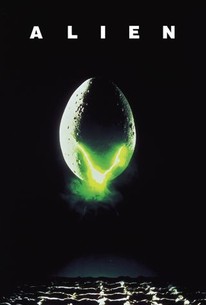 Movie Info
"In space, no one can hear you scream." A close encounter of the third kind becomes a Jaws-style nightmare when an alien invades a spacecraft in Ridley Scott's sci-fi horror classic. On the way home from a mission for the Company, the Nostromo's crew is woken up from hibernation by the ship's Mother computer to answer a distress signal from a nearby planet. Capt. Dallas's (Tom Skerritt) rescue team discovers a bizarre pod field, but things get even stranger when a face-hugging creature bursts out of a pod and attaches itself to Kane (John Hurt). Over the objections of Ripley (Sigourney Weaver), science officer Ash (Ian Holm) lets Kane back on the ship. The acid-blooded incubus detaches itself from an apparently recovered Kane, but an alien erupts from Kane's stomach and escapes. The alien starts stalking the humans, pitting Dallas and his crew (and cat) against a malevolent killing machine that also has a protector in the nefarious Company. ~ Lucia Bozzola, Rovi
News & Interviews for Alien
Audience Reviews for Alien
½
It is a slasher flick...IN SPACE! The visuals are gorgeous, the ship has a slight Kubrick design but with an extra gritty edge. The alien creature is one of the most iconic movie monsters for its unusual buggish look and sliminess. The creature is constantly in the shadows, giving a paranoid sense as to when it will come out and strike. The cast is very strong, Sigourney Weaver makes her character Ripley tough, sympathetic, and believable. This is the definitive sci-fi horror classic.
Christopher Heim
Super Reviewer
½
A fantastic blend of sci-fi and horror, incredibly suspenseful and carefully elaborated with a perfect pacing. Scott knows very well how to slowly build a disquieting tension and elevate it to the point of nerve-wracking, and this film is a genuinely scary modern classic.
Carlos Magalhães
Super Reviewer
Alien Quotes
| | |
| --- | --- |
| Parker: | Why the hell don't you guys just freeze him? |
| | |
| --- | --- |
| Parker: | If we ain't out of here in ten minutes, we won't need no rocket to fly through space! |
| | |
| --- | --- |
| Parker: | I ain't drawing no straws, I'm for killing that goddamn thing right now. |
Discussion Forum
Discuss Alien on our Movie forum!