America the Beautiful
(2008)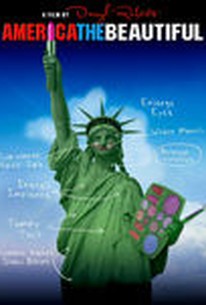 TOMATOMETER
AUDIENCE SCORE
Critic Consensus: This doc doesn't expose any new territory about our unattainable standards of beauty, but does manage to entertain with an effective and accessible tone by filmmaker/subject Darryl Roberts.
America the Beautiful Photos
Movie Info
Looking at the cover of popular fashion magazines and examining the lengths that young girls will go to in order to achieve "perfection," it's easy to see why many people believe that America has developed an unhealthy obsession with beauty. In this documentary, filmmaker Darryl Roberts offers deeper insight into this observation by speaking with everyone from advertising and fashion professionals to average people on the street in an attempt to discover precisely why some people are willing to put their lives on the line in order to become physically attractive. Gerren Taylor was a lanky 12-year-old girl whose gangly appearance was once an endless source of amusement for her cruel classmates, but over the course of the next two years her most embarrassing features become her greatest assets as she strives to become one of America's next top supermodels. But what drives girls like young Gerrin to seek the attention and admiration of millions? By attempting to peer into the mindsets of such picturesque celebrities of Paris Hilton and Jessica Simpson and picking the brains of some of the top magazine editors, plastic surgeons, and beauty experts in the country -- not to mention divulging the sometimes bizarre ingredients found in popular cosmetics -- Roberts does his best to find out just why we seem to value surface beauty over true substance.
Critic Reviews for America the Beautiful
Audience Reviews for America the Beautiful
½
A GREAT documentary that told me things I already knew but alot of things I didnt know as well (Dogs getting plastic surgery?!) I'd recommend anybody & everybody to go see it once or twice.Does America have an unhealthy obsession with beauty? YES we do!
Brody Manson
Super Reviewer
America the Beautiful Quotes
There are no approved quotes yet for this movie.