Bless Me, Ultima
(2013)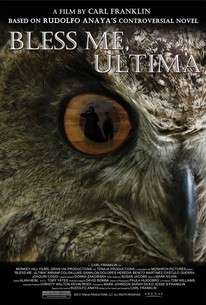 Movie Info
Director Carl Franklin (One False Move, Devil in a Blue Dress) helmed this adaptation of Rudolfo Anaya's controversial novel about a young boy and the enigmatic healer who opens his eyes to the wonders of the spiritual realm. New Mexico: the early '40s. As the entire world is plunged into war for a second time, Antonio Márez (Luke Ganalon) grapples with the harsh realities all around him. His life is forever changed by the sudden arrival of Ultima (Miriam Colon), a woman with supernatural healing powers, who has come to his family on a mission of kindness. As Ultima inspires Antonio to question authority and see the world from a new perspective, the young boy witnesses a series of seemingly impossible events that have a profound impact on his concepts of divinity and fate. ~ Jason Buchanan, Rovi
Rating:
PG-13 (for some violence and sexual references)
Genre:
Directed By:
Written By:
In Theaters:
On DVD:
Box Office:
$1,559,556.00
Runtime:
Studio:
News & Interviews for Bless Me, Ultima
Critic Reviews for Bless Me, Ultima
Audience Reviews for Bless Me, Ultima
½
They say that you can't make a good video game film, but what handful of people who are actually seeing this film say it's pretty decent, probably because this film is such a loose adaptation of "Ultima" that it's not about fantasy battles, but about a Mexican boy coming of age and finding his religion around the WWII era... or something like that. Jokes aside, this film has some pseudo-fantasy elements, and I've neither looked into the novel upon which this film is based nor the "Ultima" video game series enough to figure out just how different the premises are, but it's a safe bet that this book was not based on Origin Systems' "Ultima", because it was released almost ten years before "Ultima I", and is set in the 1940s on top of that. Ah yes, it's the 1970s... or 1940s, or whatever, back when music was actually good, so it's definitely a safe bet that this film isn't about the origin of the modern, Atlanta-based, post-hardcore metal band Of Machine, starting out with the days in which they were known as Bless Me, Ultima... or rather, before the days in which they were known as We Are Kings. Man, Of Machines sure changed their name out quite a bit, and you know what, they haven't gotten any better, but don't worry, fellow '70s nostalgics (I was born well after the '70s, but I'm a little crazy and think I'm older than I actually am, so there may come a day where I snap and actually think that I was a flower child or something, cat), because this isn't about angsty musicians' problems. No, this is yet more Mexican Catholic problems, folks, which would be fine and all if people who may need these messages were actually seeing these films, because no one saw "For Greater Glory", and they're sure not going to see this film. Either way, after a ten-year hiatus, Carl Franklin is back to directing feature films, and I'm glad of that, because by changing his route as a maker of films about minorities, he finally settles the debate the debate to see which ethnicity receives more attention from Americans: blacks or Mexicans. Just when you figured Franklin couldn't make any less money back when he was just worrying about black people problems, he does poverty in the Mexican culture no favors with this effort, which is a shame, because I like this film, and yet, I still have some complaints... the quantity of which I doubt is as substantial as the amount of complaints the Mexican and black communities would direct to me if people actually read my reviews, or at least were interested enough in this film to read a review of it. A mess in a number of ways, the film can't even get a grip on its pacing, glossing over certain promising pieces of exposition, then proceeding to make up for time lost by bloating itself with a considerable excess of material, much of which runs together and ignites repetition, while just as much goes so far as to craft multiple full-fledged story layers and subplot that ultimately feel kind of superfluous, giving the final product more meat than it can hope to chew, what with its incoherency in pacing. You really do have to see this film to get an idea of just how all over the place it is, there is so much to focus on and so much unevenness that, after a while, you start to forget what all is happening, leaving focus to feel more absent than inconsistent, even though most every subplot keeps consistent with a certain major aspect: familiarity. It's hard to spot it, but if you look deeply enough into this story concept, there is some potential for relative uniqueness, it's just that it's seriously undercut by an execution that goes far along the opposite route, offering hardly anything that you've ever seen before within characterization, conflicts and overall path, which I will go so far as to say feel, not simply generic, but trite, possibly because conventionalism is mixed with a certain cheesiness that is found in weaker, but just as misguided dramas. At least as screenwriter, Carl Franklin bombards this effort with cheesiness, found primarily within questionable dialogue that waters down a sense of genuineness of storytelling, as well as within a blatant overemphasis on anything from dramatic depths or near-supernatural themes that strips film of much potentially intriguing ambiguities. There's enough heart to the direction and acting to endear, but with his script and, to a certain degree, directorial efforts, Carl Franklin cheapens this drama with subtlety issues so glaring that the final product typically feels like some kind of a TV film, if that, and does so with a certain ambition that saves the film about as much as it brings it to the brink of collapse. By that, I mean that Franklin's arguably overly palpable desire to carry this drama to effective heights charms enough to endear, but, at the same time, really draws your attention towards the many areas in which this film fails to fulfill its potential, probably by a long shot, for although there is enough done right, or at least done charmingly, to keep you adequately engaged, the missteps are so glaring that they all but ruin the final product as mediocre, at best. There's certainly a lot to complain about here, and I can't promise that you'll be able to get over the final product's problems, but for me, and apparently others, there's enough to this effort to endear and craft a pretty decent, if messy drama. Mark Kilian's score isn't perfect, as it is consistently formulaic and all too often sentimental, not unlike most other components to storytelling in this drama, and yet, it remains heartfelt and thoughtful, so much so that it frequently livens things up on a general musical level, and has times in which it proves to be an effective compliments to the atmospheric depths of this opus, which is more powered by onscreen efforts which are perhaps just as heartfelt. Okay, now, the film is so messily handled on a directorial level that it should be relatively easy for a performance to slip-up under questionable hand of Carl Franklin, and sure enough, while the child performers who drive so much of this film are alright, they're not strong enough to carry this drama as much as certain other talents of today could, so it's a good thing that this very thematic coming-of-age character drama is so very reliant on the supporting characters, as they, while typically unsubtly drawn, go brought to life by inspired dramatic layers that offer the film some of its most endearing moments as a character drama. The character portrayals aren't that upstanding, but they're often more competent as driving forces for this opus than Franklin's written and directorial storytelling, which is kind of a good thing, I suppose, seeing as how potential needs to be done as much justice as it can get. As I've been saying, the interpretation of this subject matter is all but trite, but the subject matter remains worthy, at least on paper, being anchored by themes dealing with faith, as well as the first tastes of the harsh realities of maturity that change the lives of loved ones, and the youth who witnesses it is all. As surely as the onscreen performances are generally stronger than the offscreen performances, this film's story concept is more worthy on paper than it is in execution, and in a lot of ways, that's a shame, - seeing as how there's more to soak up here - but the fact of the matter is that you can, in fact, see the potential through all of the storytelling faults that undercut engagement value, thanks to moments in which storytelling really does pick up. Franklin is perhaps faultier as writer than director, but he still makes many mistakes as director, bloating the film with a sentimental emphasis which, I must admit, isn't wholly questionable, as there are moments in which it finds itself controlled enough to compel, drawing enough of the dramatic core to intrigue, while keeping pacing brisk enough to hold a fair degree of consistent engagement value, backed by a sense of ambition that may reflect shortcomings, but mostly charms. Were it not for such charm, you can take it to the bank that the final product would collapse into mediocrity, as it is just so messy and misguided, and yet, there are still some endearing strengths, and they go brought to life enough by Franklin's undeniable heart to keep the final product alive as decent, in spite of its faultiness, which may not be so easy to forgive for others. In conclusion, pacing unevenness bloats focus with so much excess material that you also end up with narrative incoherency, which at least keeps consistent in genericism and cheesy subtlety issues that go stressed by an overwhelming sense of ambition which threaten the final product's decency, ultimately secured enough by enjoyable score work, good acting and highlights in direction behind conceptually worthy subject matter for "Bless Me, Ultima" to stand as a passably entertaining and sometimes engaging coming-of-age drama. 2.5/5 - Fair
Cameron Johnson
Super Reviewer
I enjoyed the movie Bless Me, Ultima. For those of you that have read the book, you will find that some parts are left out. I didn't like this. Because the golden carp was such a key factor in the book, it was weird to see it missing. When it was gone, Tony's struggle to choose a religion was somewhat diluted, but his struggle to find which family, Luna or Márez, he belonged to, stayed strong. However, I liked how in the movie there was, obviously, a more vivid picture. You could see the characters' faces and reactions to everything much more clearly. Music, real pictures, and actual voices set the mood and made everything feel so real compared to the book. Overall, I liked this movie. I love to read so I like the book better, but the movie was good too.
Emily J
½
While this isn't an outstanding coming-of-age film, it is a very intelligent story about this boy who loses his religion. I don't mean to say that the movie is strictly anti-religion, it's just a movie that asks questions about it and Antonio's inquisitive nature drives him to understanding the universe and why evil happens in it and why would god allow such terrible things to happen. This might be a question that the religious would try to brush away by saying that he gave us free will and that this is the work of men. And that's a valid point, I would never disagree with that, but at the same time if all of this is god's creation and it's all a part of his divine plan then he should also be held responsible, right? I don't mean to get into a debate about this, I'm just pointing out why Antonio, even at his young age, would be curious about these things and the effect they have on humanity. So, in that regard, I found the movie to actually be quite insightful and intelligent. If there is a problem is that Ultima was the person that made Antonio question all these things, she pretty much sent him on a life-changing experience. Yet, we never got to see much of Antonio's and Ultima's relationship. We got the important bits, but I never really felt as if that was enough to create this bond that will still live on even after Ultima's death. The acting's more than solid, sometimes Luke Ganalon, who plays Antonio, leaves a lot to be desired but he's good overall and Miriam Colon is incredible here because she commands a certain respect that the character of Ultima required, and she's certainly the highlight of the film. The story is strong but not outstanding, I think it's probably a better read than it is a movie. And that's saying something because I thought this film was pretty damn good with a magical charm about it. It asks some interesting questions and it has a great deal of insight. It's certainly not a perfect film, but it's pretty damn good nonetheless.
Jesse Ortega
Super Reviewer
Bless Me, Ultima Quotes
There are no approved quotes yet for this movie.
Discussion Forum
Discuss Bless Me, Ultima on our Movie forum!