Blessed Is the Match: The Life and Death of Hannah Senesh
(2009)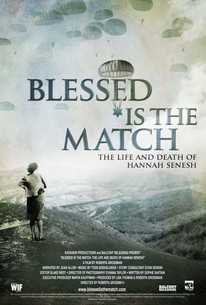 Blessed Is the Match: The Life and Death of Hannah Senesh Videos
Blessed Is the Match: The Life and Death of Hannah Senesh Photos
Movie Info
The meteoric emotional and intellectual development of Hungarian Jewish poet Hannah Senesh coincided neatly with the rapid-fire rise of anti-Semitic racial hostilities throughout Europe during WWII -- thus predestining Hannah for the life and role of a resistance fighter. The attempt that Hannah made to rescue Jews from the grim jaws of the Holocaust may have ultimately proven unsuccessful, but projected astounding nobility, fortitude, and self-sacrifice, and marked one of the only external rescue efforts of its kind mounted specifically for Hungarian Jews. An emigrant to Palestine, Senesh joined a British resistance force known as the Special Operations Executive, or SOE (which trained her as a parachutist), then helped devise a plot to parachute into Yugoslavia and deliver the Jews prior to the pending German occupation. Tragically, when Senesh and two male colleagues reached Yugoslavia, they learned that the Germans had already arrived in Bucharest, prompting the other two to turn back. Senesh marched on unabated, however, and ultimately fell prey to repeated torture and murder at the hands of the Nazis. As narrated by Oscar nominee Joan Allen, Blessed Is the Match marks the first documentary to relay Senesh's story for the sake of posterity. It blends dramatic reenactments featuring actresses Marcela Nohynkova and Meri Roth with recitations from Senesh's letters to her mother, interviews with the other parachutists and with kibbutz members, and a discussion with historian Sir Martin Gilbert -- which collectively etch out a portrait of an indomitable spirit with unfathomable courage.
Rating:
NR
Genre:
,
Directed By:
Written By:
In Theaters:
On DVD:
Runtime:
Studio:
News & Interviews for Blessed Is the Match: The Life and Death of Hannah Senesh
Critic Reviews for Blessed Is the Match: The Life and Death of Hannah Senesh
Audience Reviews for Blessed Is the Match: The Life and Death of Hannah Senesh
A compelling documentary that told the story of Hannah Senesh, a young, idealistic Jewish woman and poet who returns to Hungary from Israel in the final days of WWII, to help her people escape from Hitler's Final Solution. In many ways, her story was similar to many others. "Sophie Scholl: The Final Days" comes to mind, but each story is unique and bears telling. In this, the filmmakers wove archival footage with historical still photos and live action recreations of the events in her courageous, but somehow foolhardy, life. The tale it tells is fairly accurate because Hannah was a dedicated diarist who left a detailed record of how she wound up where she did. The tragedy, for me, is that she sacrificed her own young life; but in doing so she caused her mother to come to the attention of the authorities. That selfless action may have resulted in her mother surviving when so many others were shipped off to the death camps. I found this very moving, although it really had nothing new to say, except to remind us that there were many heroes of that period whose stories have yet to be told. I am glad I now know hers.
Mark Abell
Super Reviewer
"Blessed Is the Match" is a partially rewarding documentary about the life and times of Hannah Senesh who was raised in Budapest before emigrating to Palestine, like many other Jews in the years before World War II. It is there that she volunteers for a military mission to parachute behind enemy lines where she died at the age of 22. Even though the objectives of her mission were not achieved, the documentary points out that it was at least successful in giving hope to Hungarian Jews through a growing sense of Jewish nationalism, just as the Holocaust was becoming reality there. It is curious that the most pertinent information comes from background material. At the same time, I don't think we really get to know Hannah, with the emotional highlights coming from the testimony of survivors. Since a lot of the documentary is made up of dramatizations, it stands to reason that a more effective approach in telling the story of her life might have been a feature film.
Blessed Is the Match: The Life and Death of Hannah Senesh Quotes
There are no approved quotes yet for this movie.
Discussion Forum
Discuss Blessed Is the Match: The Life and Death of Hannah Senesh on our Movie forum!