The Chocolate War
(1988)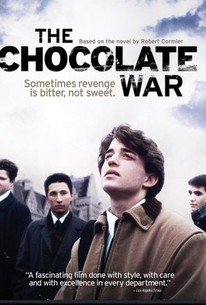 Movie Info
A young student in a boy's Catholic school refuses to participate in a school fundraiser as a matter of principle, leading to violent confrontations with his classmates and with the merciless, ambitious new principal. This surprisingly dark, nuanced drama is based upon a book by author Robert Cormier.
Critic Reviews for The Chocolate War
Audience Reviews for The Chocolate War
First and foremost, this is a movie I saw when I was a little kid and I've been carrying around this vague memory of the ending for years trying to figure out what film they belonged to. This movie seemed to fit the description of what I thought it was...and happily a mystery in my life is solved! I remembered the final moments of this word for word, yet I barely remembered anything else. Watching this as an adult I see it as a unique and odd film about Catholic school boys who have a secret group that assigns tasks to younger students as a means of control...and get into a battle of wits and bullying with a Freshman who refuses to sell chocolates in the school fundraiser. It is decent, but it suffers a bit because the kid playing our lead is as entertaining to watch as a bag of rocks. The movie has some decent cinematography and visuals though, and the core story is solid. It may have a boring lead and some dated music and MTV in the 80s style at times...but it isn't an awful movie.
Ken Scheck
½
Sebastian C. Ms. Guthrie/Period 4 Let me just start off by saying that the chocolate war was kind of boring and not that good. I thought that the book was way better than the movie because the movie did not go into as much detail as I think it should have. The characters didn't really interest me in the movie because they did not show as much emotion as was described in the book. I thought that the scenes dragged and it really bored me. The music could have been more exciting. The characters in the book aren't the ones I pictured for the movie. So I think the casting really needed improving. The director should have cut the scenes shorter and gotten to the point faster so that way it would be more interesting . If they did that i think the movie would have been way better.
sebastian c.
I loved this surreal teenage drama, it's deep, and Ilan Mitchell-Smith is really cool in it.
The Chocolate War Quotes
There are no approved quotes yet for this movie.
Discussion Forum
Discuss The Chocolate War on our Movie forum!