Circle
(2015)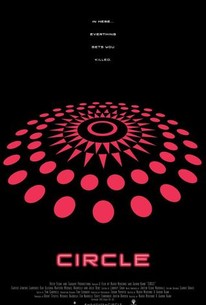 AUDIENCE SCORE
Critic Consensus: No consensus yet.
Movie Info
In a massive, mysterious chamber, fifty strangers awaken to find themselves trapped with no memory of how they got there. Organized in an inward-facing circle and unable to move, they quickly learn that every two minutes, one of them is executed by a strange device in the center of the room. Soon they realize that, as a group, they have the power to decide who will be the next to be killed by vote. But how can they choose who deserves to die? (C) FilmBuff
Critic Reviews for Circle
All Critics (3) | Top Critics (1) | Fresh (2) | Rotten (1)
The movie keeps suspense alive, as we try to guess how this all will play out -- building to a final tableau that, silently, says nearly as much about human nature as does all the talk leading up to it.
There are one or two missteps in the performances. But nearly everything about Circle is deliberate and dense.
Circle essentially takes a premise that would've been ideal for a 22-minute episode of The Twilight Zone and expands it to a watchable yet erratic 87 minute running time...
Audience Reviews for Circle
½
Whilst it takes an interesting concept and offers a thought provoking analysis of the society we live in, it's stereotypes and deeply unlikeable characters makes this an irritating and boring sci fi to sit through.
Film Crazy
Super Reviewer
Extremely provocative, Circle is a remarkably daring science fiction drama. Inspired by 12 Angry Men, the film follows a group of people that have been abducted and placed in a room with a laser that kills a person every two minutes, and they most vote on who dies until only one person is left standing. The script is especially well-written; capturing the confusion and desperation of the situation. And the dialog gets incredibly raw as the characters let loose their prejudices, beg for their lives, and rationalize killing. However, the film never really answers the question of why this is happening to these people or the purpose behind it. Full of mystery and suspense, Circle delivers a visceral experience that leaves the audience on the edge of their seats.
Dann Michalski
Super Reviewer
½
I think this film manages to say a lot about human nature and the instinctual need to fight for your own survival. The problem with this is that the movie goes about it in the most heavy-handed manner possible. Like they talk about religion, immigration, racism, socialism, homosexuality, social status, etc, etc, etc in the most basic, first grade fashion. It's not that they shouldn't have discussed these issues, it sort of makes sense that they would cover them, but I just think the way they go about it isn't that particularly interesting. I mean it's interesting that they talk about these topics, but I just found the whole writing of it to not be that effective in using these all of these themes and concepts. Another problem I have with the film is the fact that there's like a track list in album. One scene is about racism, the next is about religion and so on and so forth. I did not like that structure at all. It just didn't feel like one whole movie, despite featuring the same characters. Again, it's like an album. Same musician, different song. That's how this movie is. Again, it is all working toward the same result. It's all seeing who's the most 'shrewd' to survive. But I don't like how they get there. The fact of the matter is that when they stop talking about a certain topic, they never bring it up again. I don't think that's good writing to me. It feels more like a series of skits where the screenwriter(s) managed to get their thoughts out on certain subjects. There's also the fact that the movie, much like mentioned in a review here, feels like it'd be better suited to a 22-minute TV format, like an episode of the Twilight Zone or any other anthology series. But I will say, however, that the film does find a way to hold your interest and it's not even that the film is bad. The acting is better than one might imagine and there is some interesting themes that the movie touches on. Themes that should've been better explored than they were here. And I did think that the movie's ending was pretty cool as to what extremes a person would go to survive. But, again, the whole thing of 'humanity is awful' message that this movie wants to get across is so poorly written. You can do this same thing without being so obvious about what the moral of your story is meant to be. It would've been more effective and significant if it was a little bit subtler. With that said, this movie is average at best. Some scripting issues kept it from being better. It does hold your interest, there's some intriguing discussions and the acting is solid, but its flaws are apparent and really do end up hurting the film in the long run. Not a bad movie however.
Jesse Ortega
Super Reviewer
Circle Quotes
There are no approved quotes yet for this movie.