Come and Get It
(1936)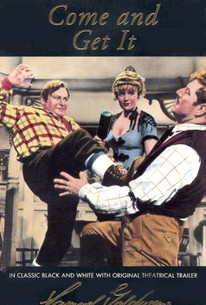 Movie Info
AKA Roaring Timber (reissue title) In the late 19th century, Barney Glasgow (Edward Arnold) is a brash, tough logger often at odds with the others who work with him in the Wisconsin forests near Iron Ridge. His best friend is Swan Bostrom (Walter Brennan), a big-hearted Swede. The ambitious Barney presents an idea that gets the attention of his boss, even when Barney suggests they become partners. At a boisterous tavern, Barney and Swan meet the cynical, opportunistic Lotta (Frances Farmer), but she and Barney quickly fall in love. However, his boss sends Barney a telegram that makes it clear their partnership depends on Barney marrying the boss' unattractive daughter, Emma Louise. Barney decides to take the offer, and leaves it to Swan to break the news to Lotta; she's so unhappy that the kind Swan proposes to her himself. Twenty-five years or so pass; Barney is now the richest man in the state, wealthy from timber and paper mill interests, and living in a fine house far from Iron Ridge. Little love is lost between Barney and his socially-conscious wife (Mary Nash). He's closer to his son Richard (Joel McCrea), though uninterested in Richard's ideas for marketing paper cups, and not entirely happy that his daughter Evvie (Andrea Leeds) is engaged to the scion of a wealthy family -- nor is Evvie herself really happy about this. Things undergo a major change when Barney gets a telegram from Swan, whom he hasn't seen in 20 years. Lotta died some time ago, and Swan is lonely for his old friend. Barney impulsively returns to Iron Ridge, where he's warmly greeted by Swan -- and astonished to learn that Swan's daughter, also called Lotta (also Farmer), is almost the double of her mother, though her temperament is very different. Barney is almost immediately smitten by the young Lotta, who is eager to get out of Iron Ridge and see more of the world. He takes her and some friends to Chicago, where he imagines that she is falling in love with him, too. However, when she meets Richard, Lotta is instead attracted to him, considering Barney just a nice -- and very generous -- man of her father's generation. Meanwhile, Evvie has become attracted to a "bohunk," Tony Schwerke (Frank Shields), who works in one of her father's factory. When Barney confronts the young man, he's impressed by his nerve and intelligence, and begins to think he might not make such a bad husband for his daughter. Things come to a head at the annual Employee Banquet, held as always on the Glasgow estate. Barney finds Lotta kissing Richard, and slaps his son -- who knocks his father to the floor. Now realizing what a fool he's made of himself, Barney is comforted by the understanding Swan. Barney gathers some of his old strength to ring the big triangle on the porch and announces the banquet has begun: "Come and get it!" Never as good as it keeps promising to be, "Come and Get It" was a troubled production from the beginning. Director Howard Hawks liked the first part of the story, as can be seen in his exuberant filming of an elaborate saloon brawl involving a lot of big metal trays flung around the room by Arnold, Farmer and Brennan. But he never warmed up to the more melodramatic second half of the film, and kept encountering interference from the very hands-on producer Samuel Goldwyn. Finally, after 40+ days of shooting, Hawks left the film; stories differ as to whether he quit or was fired, but he was replaced by a disgruntled William Wyler for the last 28 days of shooting. Neither director was satisfied with the result, and the movie was a box-office disappointment. Arnold is not well-cast in a role that called for a younger, more outdoorsy man, but his expansive personality does fit the older Barney reasonably well. Frances Farmer, in her first major film, is outstanding as both Lottas, especially the mother. And Brennan, often in Hawks' movies, won the Supporting Actor Oscar for his role as the good-hearted Swede. Viewers today are actually more likely to enjoy the film than the original audiences; this kind of big-scale melodrama is rarely attempted today, and the aroma of failure has long since evaporated. Also, Richard Rosson's logging footage, shot in Canada, Idaho and Wisconsin, is excellent, a view into a time long gone.
Critic Reviews for Come and Get It
Audience Reviews for Come and Get It
½
A neglected classic Successful in its time, this film has become unjustly neglected. It's unusual in being one of the few films that has Northeast Wisconsin associations. Directed by Howard Hawks (who grew up in Neenah) in his usual vigorous style, with a screenplay based on a novel by Appleton native Edna Ferber, it tells the story of a ruthless Wisconsin lumber baron (Edward Arnold) who lives in a mansion near Butte des Morts, and his best friend, a blond Swede played by Walter Brennan (!) in a role for which he won the 1937 Academy Award for best supporting actor. The story anticipates Citizen Kane in its portrayal of a man who gains immense wealth and power only to find that they can't buy happiness. There are also some amazing scenes early on of trees being felled and transported by river in far Northern Wisconsin. One of Hawks' better films, which is saying something, and highly recommended. No advisory to speak of except for a bar room brawl or two. The MGM Home Entertainment DVD is of good quality.
Jon Corelis
This film's major recommendation is it's the best gandering of actress Frances Farmer, who had her traumatic personal life and involuntary psychiatric hospitalizations made famous by the 1982 biopic "Frances." Jessica Lange portrayed Farmer in "Frances" -- and seeing Farmer in "Come and Get It" makes plain that the resemblance between the two stars goes far beyond uncanny. For most of the film I felt as though I were actually watching Lange. Well, an even more talented version of Lange, truth be told. Lange took both an Oscar and Golden Globe nod for her work in "Frances." Lange's work and nods put to bed the dumb blonde stereotype she had been saddled with by her film debut as King Kong's bimbo in 1976. Farmer, at just 23 years old, is clearly displaying a load of talent and future promise in "Come and Get It," making it reasonably believable that she is the savvy stone-cold saloon gal mother in Act I ... and then the mother's somewhat sheltered adult daughter in Acts II and III. No easy task indeed. Yet Farmer doesn't miss a step skipping across the river from one role to the next ... from savvy bargal-for-hire to smitten-like-a-schoolgirl to naïve teenage-mistress-to-be. It's difficult to watch Farmer so successfully controlling this film and all these roles ... and then imagine that somehow she so thoroughly lost control of her own psyche and her own self-control just six years later. The actual film & plotline, a success for Sam Goldwyn in 1936, is far less enticing today, playing out the tragic story of Barney Glasgow (Edward Arnold), lumber robber baron. In Act I, Glasgow is the young lumber camp whip who, with his wingman (delivered by consummate wingman Walter Brennan), tear up all logging production quotas, the local Barbary Coast tinged saloon, as well as the heart of hard-hearted saloon gal Farmer. Glasgow dumps Farmer cold to marry the boss's daughter and become CEO, though it's clear enough he loved Farmer. Brennan knows a good catch when he sees one and promptly weds Farmer. Decades later in Act II, Glasgow, now the 50-ish lumber tycoon with his own adult children, pays a long overdue visit to Brennan - - that only after Farmer has passed away - - only to discover that Brennan & Farmer's daughter is nothing less than the spitting image of her mother. Almost any viewer on Earth would be far less clueless - than Brennan seems to be - as to what effect this doppelganger daughter is having on Glasgow, who opens his checkbook wide and starts slipping down into the Act III slope of foolishness and tragedy. Arnold's delivery of Glasgow the egoist-brought-down is talented enough to maintain viewer interest. And it's even more entertaining to watch Brennan do his wingman bit when he was so young ... and doing it with a thick Swedish dialect, no less. Ja, dazt guud Smörgåsbord! RECOMMENDATION: Farmer gandering + Glasgow's satisfying self-undoing + Brennan's skilled sidekick bit = a somewhat reasonable investment of viewing time.
TonyPolito Polito
This movie does have it's funny moments, but most of the time it's talky and boring.
Come and Get It Quotes
There are no approved quotes yet for this movie.
Discussion Forum
Discuss Come and Get It on our Movie forum!