Cool Hand Luke
(1967)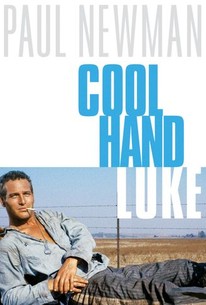 TOMATOMETER
AUDIENCE SCORE
Critic Consensus: Though hampered by Stuart Rosenberg's direction, Cool Hand Luke is held aloft by a stellar script and one of Paul Newman's most indelible performances.
Movie Info
Paul Newman was nominated for an Oscar and George Kennedy received one for his work in this allegorical prison drama. Luke Jackson (Paul Newman) is sentenced to a stretch on a southern chain gang after he's arrested for drunkenly decapitating parking meters. While the avowed ambition of the captain (Strother Martin) is for each prisoner to "get their mind right," it soon becomes obvious that Luke is not about to kowtow to anybody. When challenged to a fistfight by fellow inmate Dragline (George Kennedy), Luke simply refuses to give up, even though he's brutally beaten. Luke knows how to win at poker, even with bad cards, by using his smarts and playing it cool. Luke also figures out a way for the men to get their work done in half the usual time, giving them the afternoon off. Finally, when Luke finds out his mother has died, he plots his escape; when he's caught, he simply escapes again. Soon, Luke becomes a symbol of hope and resilience to the other men in the prison camp -- and a symbol of rebelliousness that must be stamped out to the guards and the captain. Along with stellar performances by Newman, Kennedy, and Martin, Cool Hand Luke features a superb supporting cast, including Ralph Waite, Harry Dean Stanton, Dennis Hopper, Wayne Rogers, and Joe Don Baker as members of the chain gang.
News & Interviews for Cool Hand Luke
Critic Reviews for Cool Hand Luke
Audience Reviews for Cool Hand Luke
An exceptional cast can't hide that here is a film rooted in it's time (released Jan.1, 1967): from the moment anyone intones any kind of rules and regulations to Newman's character his primary response is to roll his eyes = countercultural anti-hero from the jump. And thereafter the work's direction is set, a film about rebellion ("what're you rebelling against?" "whaddaya got?"), perhaps against the lockstep that the 1950's epitomized, filmed just short of a Cecil B. DeMille epic. While probably deserving a rewrite (like why do all of the hardtimers decide to revere some punk on shorttime - wouldn't happen in the real world), still the set-up as delivered is pleasing even if not believable. The individual vs. the collective.
Kevin M. Williams
Super Reviewer
What elevates this engaging drama to a remarkable ode to nonconformity is definitely Paul Newman's intense performance and its taut, compelling script, which both compensate for the story's exceedingly slow-moving pace and Rosenberg's inept direction.
Carlos Magalhães
Super Reviewer
½
While the movie seems to have worked wonders for most, I wasn't so lucky to be one of those. That's not to say that I didn't like it altogether. Just didn't enjoy it enough as expected. Found it mediocre in almost every major department, be it scripting, acting, dialogues or screenplay. Give it a shot; may turn out to be worth your while. Even otherwise, it's not an absolute waste. Watch it (of course, at your own risk) and arrive at your own sound verdict.
familiar stranger
Super Reviewer
Cool Hand Luke Quotes
| | |
| --- | --- |
| Lucas (Luke) Jackson: | Calling it a job don't make it right, boss. |
| | |
| --- | --- |
| Carr: | " One in the box, one in the bush" |
| Carr: | One in the box, one in the bush. |
| | |
| --- | --- |
| Captain: | What we've got here is failure to communicate. |
| | |
| --- | --- |
| Fixer: | (just after Luke ate fifty eggs) No man can eat fifty eggs |
| Fixer: | [just after Luke ate fifty eggs] No man can eat fifty eggs. |