The Couch Trip
(1988)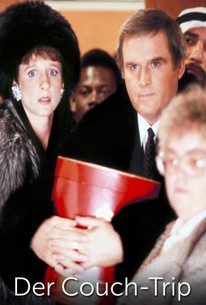 Movie Info
Michael Ritchie's The Couch Trip follows a long line of Hollywood films (One Flew Over the Cuckoo's Nest, The Disorderly Orderly) in which the psychos are seen as saner than the psychiatrists. Charles Grodin plays Dr. George Maitlin, a pompous radio self-help guru, who is having his own personal mental breakdown. Maitlin's lawyer puts in a call to a Cicero, IL, mental facility and the telephone is answered by schizophrenic mental patient John Burns (Dan Aykroyd). Thinking Burns is a crony of Maitlin, Burns is offered the job of replacing Maitlin during his recovery. Of course, Burns accepts the job. Immediately jetted to Los Angeles, Burns meets panhandler Donald Becker (Walter Matthau) at the airport. While wearing the garb of a priest, Becker sounds off against the madness of societal conventions; Burns takes to him immediately and they become fast friends. When Burns assumes command of the airwaves in Maitlin's place, his words of wisdom are so obvious and commonsensical that he is an overnight sensation. Meanwhile, in London, where Maitlin is convalescing, he gets wind of Burns' success. With renewed vigor and outrage, Maitlin leaves his recovery room and hops on a plane back to Los Angeles in an effort to recover his radio show.
Critic Reviews for The Couch Trip
Audience Reviews for The Couch Trip
Another top Aykroyd comedy (does he ever make abad one?) alongside Grodin with his usual extreme character portrayal and Walter Matthau in a slightly weaker role than his partners. 88 was a good year for Aykroyd with 'The Great Outdoors' and this, two good films but this one clearly being the best, if not as well known, with Aykroyd in scorching form as a smart ass convict getting himself to a loony bin and then a top flight job as a doctor on the radio. Sounds average but the way in which Aykroyd performs his role is such a joy to watch with his usual quick fire dialog that he can unleash at any given moment as he has shown in many of his films. The whole film is basically an anarchic comedy with the main character being a total fraud, yet a lovable roguish fraud that you just wanna see win :) Much better than so many modern films due to Aykroyd coming across as quite an intelligent person who genuinely knows his stuff instead of just memorising lines, its also nice to see a comedian in film who can make you laugh with his wit and use of knowledge instead of just making stupid faces and acting like a complete moron Mr Carrey.
Phil Hubbs
Super Reviewer
A great group of comedians makes for a very funny movie. The story is funny too. I highly recommend this fun comedy.
Dan Aykroyd is always funny, and this movie even though it has some flaws is no exception, the one thing about this movie was the storyline which is it's biggest flaw, they have the relationship between Aykroyd and Walter Matthau's character which is really non-existent, then you have the main story line about a mental patient impersonating a radio psychologist. Just to little, if the movie had more depth then this would be a great comedy, but it is only good mostly because of Aykroyd and Matthau, and a little Charles Grodin never hurt anyone.
Jason Reneau
Super Reviewer