The Cowboy Way
(1994)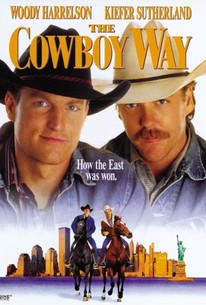 Movie Info
In this action comedy, director Gregg Champion relies on the premise that, indeed, "country boys can survive," as Sonny (Kiefer Sutherland) and Pepper (Woody Harrelson, always game) head off to the Big Apple in order to rescue a mutual friend's daughter from the clutches of an evil sweatshop owner. Naturally, there are lots of encounters highlighting the two fishes out of water; there are opportunities to lasso bad guys; there's even a chase on horseback through the city streets after Sonny and Pepper steal a pair of NYPD horses. ~ Jeremy Beday, Rovi
Critic Reviews for The Cowboy Way
Audience Reviews for The Cowboy Way
Man, with all of these gay undertones, I had to rewind a bit to see the title and make sure I wasn't watching "Brokeback Mountain" again. Really, I kind of wish that they did go the gay cowboy route. At least something interesting would be happening. True, the film is saved by solid performances from our leads. Still, the jumpy camerawork, awful dialogue, poor humor, cliches, improvable performances from supporting cast members and general dragging leave "The Cowboy Way" to be an unengaging and unmemorable ride.
Cameron Johnson
Super Reviewer
i think the real cowboy way theyre reffering to is to win the lottery make a stupid movie with the help of some so not cowboys playing cowboys
Coxxie Mild Sauce
Super Reviewer
A funny comedy about a couple of cowboys having to navigate the big city and take on some bad guy in the process.
Jason Spencer
Super Reviewer