A Dangerous Woman
(1993)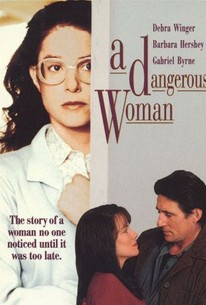 Movie Info
Debra Winger's performance as a slow, mentally disturbed woman in A Dangerous Woman, raises the film far above its conventional, violence-ridden plot. Winger plays Martha, a quiet, lonely woman who has adjusted to a life without a man as she toils away at her small job at a dry cleaners in a small town. She lives in the guest cottage of the home of relative Frances (Barbara Hershey). Frances is a single woman who takes up with a variety of men as a cover for her loneliness and insecurity. When Anita (Laurie Metcalf) barrels her car into Frances' porch (thinking, correctly, that her husband is inside Frances' house), alcoholic handyman Mackey (Gabriel Byrne) appears on the scene and offers to fix Frances' porch. As Mackey works on the porch, Mackey becomes involved with both Frances and Martha. Into this melodramatic brew is added Getso (David Strathairn), a petty crook who works with Martha at the dry cleaners. When the four principles interact with each other, the disturbing results include an unwanted pregnancy, a murder, and some unsparing violence.
Critic Reviews for A Dangerous Woman
All Critics (11) | Top Critics (3) | Fresh (6) | Rotten (5)
While Winger's acting is painfully accurate, utterly unglamorous and unnerving in its otherness, this adaptation of Mary McGarry Morris looks unlikely to gain a place in the Oscar sweepstakes...A Dangerous Woman proves difficult to watch at times.
It's acting of an order that deserves better than the film's cheap, final grope for melodrama.
The movie centered around Winger's sexuality. She gave an absolutely wonderful performance. Very realistic. I wish she had a better director.
Audience Reviews for A Dangerous Woman
½
Some good character studies.
Anthony Valletta
Super Reviewer
A Dangerous Woman Quotes
There are no approved quotes yet for this movie.