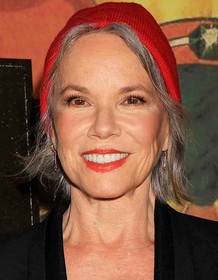 Barbara Hershey
Highest Rated: 100% Strange Darling (2023)
Lowest Rated: Not Available
Birthday: Feb 5, 1948
Birthplace: Hollywood, California, USA
Born Barbara Lynn Herzstein in Hollywood on Feb. 5, 1948, she was the youngest of three children. Although painfully shy in school, Barbara was immediately drawn to acting, and would perform constantly for her family at home. When she came out of her shell around age 10, Hershey proved to be an exceptional student, and later, a talented performer in several stage productions with the drama department at Hollywood High School. After a supportive drama coach at the school sent her to meet an agent, the budding thespian landed her first professional role with one of several appearances on television's "Gidget" (ABC, 1965-66), starring Sally Field and then landed leading roles in features such as "With Six You Get Eggroll" (1968) and "Last Summer" (1969). Cast alongside Bruce Davidson and Richard Thomas, she played the third point of an adolescent triangle into whose midst an idealistic young outsider (Catherine Burns) enters, with grim results. During production of the film Hershey accidently killed a seagull being used in the movie. Later stating that at that moment she "felt her spirit enter me," Hershey changed her stage name to "Seagull" soon afterward, out of a sense of moral obligation. However, movie producers and studio executives were far from enthusiastic about her new nom de guerre. That same year, the actress went on to appear in the Glenn Ford Western "Heaven with a Gun" (1969) with David Carradine. During filming, she and Carradine began a romantic relationship and shortly afterward began living together. With Carradine's star on the rise, Hershey's work was largely overshadowed. Following a string of supporting roles in less-than-memorable theatrical releases, Hershey starred as the title character in director Martin Scorsese's first feature film, "Boxcar Bertha" (1972). Another fortuitous by-product came about during the filming, when Hershey gave Martin Scorsese a copy of her favorite novel, Nikos Kazantzakis' "The Last Temptation of Christ." She told the young director that she someday hoped to play the part of Mary Magdalene, the prostitute who invoked lust in a resistant Jesus Christ. Sixteen years later, Hershey would do just that when Scorsese made the controversial film for Universal Pictures, which evoked an unprecedented storm of protest. Hershey and Carradine became poster children for the Hollywood anti-establishment movement of the 1970s during the course of their six-year relationship. In 1972, she and Carradine gave birth to a son. Hershey raised eyebrows - and the ire of sensors - when she casually began breast feeding her son while sitting for an interview on "The Dick Cavett Show" (CBS, 1969-1975), an incident that further ostracized her from the Hollywood establishment. Now officially credited as "Barbara Seagull," the actress went on to appear in a few low-budget pictures, including another alongside Carradine, as well as an episode of his hit series "Kung Fu" (ABC , 1972-75). Hershey attempted to distance herself from her wild child past and dropped the surname of "Seagull" for her next film. That next project, the Charlton Heston Western requiem "The Last Hard Men" (1976), was a respectable effort, but did little to quell Hollywood's uneasiness with Hershey's recent "flower girl" persona. After an acting break, Hershey gradually began to make a career comeback with well-received television performances, including the espionage thriller "A Man Called Intrepid" (NBC, 1979), starring David Niven. She followed by taking over the role originated by Deborah Kerr in "From Here to Eternity" (NBC, 1980). Her stock rose considerably with her supporting turn in the reality-twisting action-adventure "The Stunt Man" (1980), starring Peter O'Toole in an Oscar-nominated performance as a megalomaniacal movie director. Never one to shy away from putting herself in uncomfortable onscreen situations, Hershey went on to portray a woman tormented and raped by a sadistic evil spirit in "The Entity" (1982). While the production was not a box-office hit, its controversial subject matter combined with her inarguably brave performance sparked discussion and put Hershey back in the consciousness of the movie-going public, and more importantly, of filmmakers. Committed to maintaining a low-profile in her personal life, Hershey hit her professional stride at the dawn of 1980s when she played the wife of legendary test pilot Chuck Yeager in "The Right Stuff" (1983). In the Barry Levinson-directed "The Natural" (1984), Hershey embodied the psychotic femme fatale who, mantis-like, attempts to kill the titular baseball hero (Robert Redford) after seducing him. Two years later, she had an onscreen affair with Michael Caine as one of the eponymous siblings in Woody Allen's beloved comedy-drama "Hannah and Her Sisters" (1986). That same year, she was in the film "Hoosiers" (1986), and then reteamed with director Levinson for "Tin Men" (1987. Hershey then became the first actress to win two back-to-back Best Actress awards at the Cannes Film Festival for her performances in "Shy People" (1987) and "A World Apart" (1988). Things came full circle for her when Scorsese - by now one of cinema's most critically acclaimed directors - granted Hershey's earlier wish and cast her as Mary Magdalene in "The Last Temptation of Christ" (1988). Then, in stark contrast to her work with Scorsese, Hershey starred alongside Bette Midler in "Beaches" (1988). Now at the pinnacle of her game, the actress took leading roles in two of the more celebrated made-for-television movies of the time. First came "A Killing in a Small Town" ( CBS , 1990) - a role that earned her an Emmy Award for Best Actress. Next came "Paris Trout" ( Showtime, 1991), in which she played opposite Dennis Hopper. Hershey's performance earned her yet another Emmy nomination for Lead Actress. Working steadily in both film and television, she starred with the biggest leading men of the early-1990s in projects that included "Defenseless" (1991), with Shepard; the Joe Pesci tabloid noir "The Public Eye " (1992); the Michael Douglas potboiler "Falling Down" (1993); and the Western miniseries "Return to Lonesome Dove" ( CBS, 1993), which cast Hershey alongside Jon Voight. Hershey gave a hilariously naughty performance in the dark romantic comedy, "The Pallbearer" (1996). Later that year, she co-starred in "Portrait of a Lady" (1996), a portrayal that earned her Best Supporting Actress awards from both the Los Angeles Film Critics Association and the National Society of Film Critics. She later co-starred with Naveen Andrews in "Drowning on Dry Land" (1999). More impactful than the film's theatrical showing was the romance that blossomed between Hershey and her co-star, despite an age difference of more than 20 years. The veteran actress took on a recurring role as Dr. Francesca Alberghetti for the final two seasons of the medical drama "Chicago Hope" (CBS, 1994-2000). Hershey later portrayed true-crime writer Ann Rule in the TV movie "Ann Rule Presents: The Stranger Beside Me" (USA, 2003). She joined an ensemble cast that included Hilary Swank, Rachael Leigh Cook and Patrick Swayze for the drama "11:1" (2004), then played in Stephen King's "Riding the Bullet" (2004). From there it was another roll of the dice with series TV as a regular on the primetime soap "The Mountain" (The WB, 2004-05). The actress' longest lasting romantic association came to an end in 2010 when, after an earlier brief separation - during which time Andrews fathered a child by another woman - he and Hershey officially ended their 11-year relationship. Professionally, Hershey continued to excel as she earned acclaim for her turn as the overbearing mother of a high-strung ballerina in "Black Swan" (2010). The following year, she appeared in the horror feature "Insidiou." In 2012, Hershey joined the cast of the "Once Upon a Time" ABC, 2011-18) as Cora, the Evil Queen. She subsequently turned up in her first movie sequel with a featured part in "Insidious: Chapter 2" (2013), which, like the initial installment, proved to be both scary and successful. Hershey continued her exploration of horror with a supporting role in the series "Damien" (A+E 2016), a modern update of the story begun in "The Omen" (1976). More recently, Hershey has had roles in "The Manor" (2021), "9 Bullets" (2022) and has a couple of projects in the works.
Photos
Barbara Hershey
THE LAST HARD MEN, Barbara Hershey, 1976, TM and Copyright © 20th Century Fox Film Corp. All rights reserved,
SWING KIDS, from left: David Tom, Barbara Hershey, Robert Sean Leonard, 1993, © Buena Vista
SHY PEOPLE, Don Swayze, Barbara Hershey, 1987, (c) Cannon Films
SHY PEOPLE, Don Swayze, Barbara Hershey, 1987
THE LAST TEMPTATION OF CHRIST, Barbara Hershey, (as Mary Magdalene), 1988. ©Universal Pictures.
LAST SUMMER, Catherine Burns, Barbara Hershey, Bruce Davison, Richard Thomas, 1969
SHY PEOPLE, Barbara Hershey, 1987, (c) Cannon Films
THE BABY MAKER, Barbara Hershey, Collin Wilcox Paxton, Sam Groom, 1970
THE BABY MAKER, Barbara Hershey, Scott Glenn, 1970
PORTRAIT OF A LADY, Barbara Hershey, 1996
HEAVEN WITH A GUN, Barbara Hershey, 1969
SHY PEOPLE, Barbara Hershey, Jill Clayburgh, 1987, (c)Cannon Films
A DANGEROUS WOMAN, Barbara Hershey, 1993, (c)Gramercy Pictures
A WORLD APART, Barbara Hershey, 1988, © Atlantic Releasing
HOOSIERS, Barbara Hershey, 1986, (c) Orion
Once Upon a Time, Barbara Hershey, 'Mother', Season 4, Ep. #22, 05/03/2015, ©KSITE
BEACHES, Barbara Hershey, Bette Midler, 1988, (c) Touchstone
TUNE IN TOMORROW..., Barbara Hershey, 1990
HEAVEN WITH A GUN, Barbara Hershey, 1969