Eddie Murphy Delirious
(1983)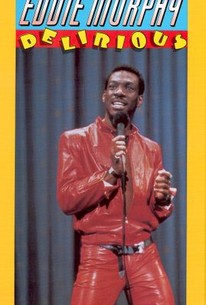 Eddie Murphy Delirious Photos
Movie Info
Comedian Eddie Murphy's live appearance before a packed Washington D.C. audience is the subject of this performance film. The film is most notable as a showcase for the extremely risque -- and at times potentially offensive -- side of Murphy's humor, often toned down in his other film and television projects.
Critic Reviews for Eddie Murphy Delirious
Audience Reviews for Eddie Murphy Delirious
This is a plain and simple stand up performance from Murphy. He's on the stage, mic in hand, looking out at the audience. No special effects to turn him into multiple characters, no silly plot, just jokes. So, realize that before watching. You get the experience of seeing a comedy legend in his prime. This is a hilarious routine and I was laughing the whole time. If you feel that his movies aren't funny any more, or aren't a fan of his, please go find this movie. You'll easily be converted to a fan. If you wonder why I didn't give it 5 stars, that is simply because it isn't among the greatest stand up movies that I've seen. That doesn't matter much, though, because this is a perfect display of Murphy's talent. I recommend it.
½
Eddie Murphy's Delirious delivers raunchy gag after raunchy gag and it never runs out of steam. They could have thrown in a few behind the scenes clip here and there and then clipped back to the stand up, which I felt would have been more appealing, but it doesn't really matter in such cases. This movie still soars with laughs, and has Eddie Murphy at his best. Hilarious Show!
Its Eddie Murphy Classic.
Eddie Murphy Delirious Quotes
There are no approved quotes yet for this movie.