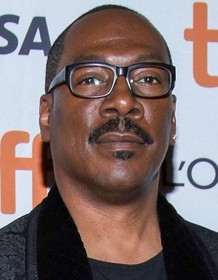 Eddie Murphy
Highest Rated: 97% Dolemite Is My Name (2019)
Lowest Rated: Not Available
Birthday: Apr 3, 1961
Birthplace: Brooklyn, New York, USA
Renowned for his motormouthed delivery, profanity-laden stage persona and ability to play numerous characters in the same film, Eddie Murphy helped revive the fortunes of "Saturday Night Live" (NBC, 1975-) before achieving movie superstardom with leading roles in "Beverly Hills Cop" (1984), "Coming to America" (1988) and "The Nutty Professor" (1996). Born in Brooklyn, NY in 1961, Eddie Murphy developed his distinctive sense of humor while spending a year in foster care with his older sibling Charlie and by his mid-teens had become a regular performer on his hometown's stand-up circuit. He immediately became a household name in 1980 when he joined the cast of comic institution "Saturday Night Live" (NBC, 1975-), boosting the show's flagging ratings with parodies of Fred Rogers, Gumby and The Little Rascals' Buckwheat. Murphy then graduated to the big screen in "48 Hrs" (1982), co-starring alongside Nick Nolte as ex-con Reggie Hammond in what's considered to be the genesis of the buddy cop comedy. A year later he joined fellow SNL alum Dan Aykroyd in the first of many John Landis collaborations, "Trading Places" (1983) and filmed a famously profanity-laden HBO stand-up special, "Delirious" (1983), that would also win a Grammy when released in album form. Following a temporary blip with the hastily assembled flop "Best Defense" (1984), Murphy got his career back on track with the role of Detroit cop Axel Foley in "Beverly Hills Cop" (1984), an action comedy which became the year's biggest box office hit and spawned two sequels of varying quality. Murphy's winning streak continued with an entirely musical LP, How Could It Be, that spawned the No.2 US hit "Party All the Time," supernatural comedy "The Golden Child" (1986) and the hugely successful "Raw" (1987) a theatrically-released stand-up show filmed at Madison Square Garden. Murphy first showcased his fondness for assuming multiple roles in the same movie in "Coming to America" (1988), playing the prince of a fictional African country as well as a soul singer and barbershop owner. After joining brother Charlie and comedy hero Richard Pryor in Prohibition-era "Harlem Nights" (1989), Murphy appeared in sequel "Another 48 Hrs" (1990) starred as a womanizing ad executive in "Boomerang" (1992) and collaborated with Michael Jackson on third musical album Love's Alright. Murphy's performances as a conman-turned-Congressman in political satire "The Distinguished Gentleman" (1992) and bloodsucker Maximilian in horror comedy "Vampire in Brooklyn" (1995) were met with both a commercial and critical shrug. But once again Murphy bounced back in style with memorable turns as both the good-natured Sherman Klump and his egotistical alter-ego Buddy Love, also donning latex to portray numerous other family members, in the hugely popular remake "The Nutty Professor" (1996). After adding another action comedy, "Metro" (1997) to his resume, Murphy kickstarted the family-friendly phase of his career with the role of the titular animal communicator in "Dr. Dolittle" (1998), going on to lend his voice to comic relief Mushu in Disney animation "Mulan" (1998) shortly after. But Murphy still continued to grace more adult-themed fare, starring as TV evangelist G in "Holy Man" (1998) and alongside Martin Lawrence in prison comedy "Life" (1999), pulling double duty as neurotic actor Kit Ramsey and his clueless brother Jiff in underrated Hollywood satire "Bowfinger" (1999) and voicing superintendent Thurgood Stubbs in the prime-time stop-motion animated sitcom he also co-created, "The PJs" (Fox, 1999-2001). Murphy's career in the '00s often veered from the sublime to the ridiculous. He stole the show as the voice of wisecracking Donkey in "Shrek" (2001) and its three further installments, enjoyed huge box office success, if little critical acclaim, with "Daddy Day Care" (2003) and "The Haunted Mansion" (2003) and earned an Oscar nomination and a Golden Globe for his powerhouse turn as the James Brown-esque singer Jimmy in Broadway musical adaptation "Dreamgirls" (2006). But team-ups with Robert De Niro on "Showtime" (2002) and Owen Wilson on "I Spy" (2002) failed to produce any chemistry, audacious sci-fi "The Adventures of Pluto Nash" (2002) famously became one of the costliest flops of all time and the Razzie-dominating "Norbit" (2007), a tone-deaf comedy which stretched Murphy's latex-wearing habits to breaking point, is widely regarded as his career nadir. After wasting his considerable talents further in family-friendly vehicles "Meet Dave" (2008) and "Imagine That" (2009), Murphy reminded audiences of his natural magnetism playing a thief who helps numerous Ponzi scheme victims in "Tower Heist" (2011). But following another critical drubbing in "A Thousand Words" (2011), Murphy took a five-year break from the spotlight. He returned in surprising fashion with "Mr. Church" (2016), a low-key drama in which he starred as a cook who develops a bond with three generations of women, and went on to receive rave reviews for his portrayal of Blaxploitation filmmaker Rudy Ray Moore in biopic "Dolemite Is My Name" (2019). That same year, it was confirmed that Murphy would be reprising his role as Prince Akeem Joffer in long-awaited sequel "Coming 2 America" (2020).
Photos
DOCTOR DOLITTLE, Eddie Murphy, 1998. TM and Copyright © 20th Century Fox Film Corp. All rights reserved..
THE HAUNTED MANSION, Eddie Murphy, 2003, (c) Walt Disney
COMING TO AMERICA, Eddie Murphy, 1988, (c)Paramount
COMING TO AMERICA, Eddie Murphy, 1988, (c)Paramount
COMING TO AMERICA, Eddie Murphy, 1988, (c)Paramount
MEET DAVE, from left: Eddie Murphy, Gabrielle Union, 2008. TM and ©Copyright Twentieth Century Fox. All rights reserved.
COMING TO AMERICA, Eddie Murphy, 1988, (c)Paramount
Eddie Murphy and Gabrielle Union in "Meet Dave"
DR. DOLITTLE 2, Eddie Murphy. 2001. TM and Copyright © 20th Century Fox Film Corp. All rights reserved..
THE HAUNTED MANSION, Eddie Murphy, 2003, (c) Walt Disney
DADDY DAY CARE, Eddie Murphy, 2003, (c) Columbia
THE HAUNTED MANSION, Eddie Murphy, Jennifer Tilly, 2003, (c) Walt Disney
Brian Robbins and Eddie Murphy on the set of "Meet Dave"
Eddie Murphy in "Meet Dave"
NORBIT, Eddie Murphy (left and right), 2007. ©DreamWorks
American Idol, Antonio Banderas, Eddie Murphy, Ryan Seacrest, Crystal Bowersox, Casey James, Aaron Kelly, Siobhan Magnus, Season 9, 1/12/2010, ©FOX
SHREK 2, Eddie Murphy, Donkey, 2004, (c) DreamWorks
BOWFINGER, Eddie Murphy, 1999, © Universal
BOWFINGER, front from left: Heather Graham, Eddie Murphy, Claude Brooks, 1999, © Universal
BOWFINGER, Heather Graham (back to camera), Eddie Murphy, 1999, © Universal
Filmography
Movies
Credit

No Score Yet

No Score Yet

Candy Cane Lane
Unknown (Character),
Producer
-
2023

40%

34%

You People
Akbar (Character)
-
2023

49%

38%

Coming 2 America
Prince Akeem/Clarence/Saul/Randy Watson (Character),
Producer
-
2021

No Score Yet

No Score Yet

Eddie Murphy: Laugh 'Til it Hurts
Unknown (Character)
-
2020

97%

91%

Dolemite Is My Name
Rudy Ray Moore (Character)
-
2019

24%

81%

Mr. Church
Henry Joseph Church (Character)
$685.2K
2016

0%

46%

A Thousand Words
Jack McCall (Character)
$18.4M
2012

67%

48%

Tower Heist
Slide (Character),
Producer
$78.0M
2011

No Score Yet

47%

Donkey's Caroling Christmas-tacular
Donkey (Voice)
-
2010

57%

54%

Shrek Forever After
Donkey (Voice)
-
2010

41%

40%

Imagine That
Evan Danielson (Character)
$16.1M
2009

20%

35%

Meet Dave
Dave/Captain (Character)
$11.8M
2008

42%

52%

Shrek the Third
Donkey (Voice)
$320.7M
2007

9%

53%

Norbit
Norbit/Rasputia/Mr. Wong (Character),
Writer,
Producer
$95.3M
2007

No Score Yet

63%

Shrek the Halls
Donkey (Voice)
-
2007

No Score Yet

No Score Yet

Shrek the Third 3D
Donkey (Voice)
-
2007

79%

71%

Dreamgirls
James `Thunder' Early (Character)
$103.3M
2006

No Score Yet

40%

Far Far Away Idol
Donkey (Voice)
-
2004

89%

69%

Shrek 2
Donkey (Voice)
$436.5M
2004

13%

31%

The Haunted Mansion
Jim Evers (Character)
$75.8M
2003

27%

48%

Daddy Day Care
Charlie Hinton (Character)
$104.1M
2003

15%

33%

I Spy
Kelly Robinson (Character)
$33.1M
2002

5%

20%

The Adventures of Pluto Nash
Pluto Nash (Character)
$4.4M
2002

25%

25%

Showtime
Trey Sellars (Character)
$37.9M
2002

42%

26%

Dr. Dolittle 2
Dr. Dolittle (Character)
$113.0M
2001

88%

90%

Shrek
Donkey (Voice)
$267.7M
2001

27%

33%

Nutty Professor II: The Klumps
Professor Sherman Klump/Clesius "Papa" Klump/Young Clesius Klump/Mama Klump/Ernie Klump/Grandma Klump/Buddy Love/Lance Perkins (Character),
Executive Producer
$123.3M
2000

81%

61%

Bowfinger
Kit Ramsey/Jiffernson 'Jiff' Ramsey (Character)
$66.4M
1999

52%

77%

Life
Rayford Gibson (Character),
Producer
$64.0M
1999

42%

35%

Dr. Dolittle
Dr. John Dolittle (Character)
$144.2M
1998

12%

25%

Holy Man
G (Character)
$12.1M
1998

86%

85%

Mulan
Mushu (Voice)
$120.6M
1998

17%

27%

Metro
Insp. Scott Roper (Character)
$32.0M
1997

64%

44%

The Nutty Professor
Professor Sherman Klump/Buddy Love/Lance Perkins/Cletus 'Papa' Klump/Anna Pearl 'Mama' Jensen Klump/Ida Mae 'Granny' Jensen/Ernie Klump, Sr. (Character)
$128.8M
1996

12%

31%

Vampire in Brooklyn
Maximillian/Preacher Pauly/Guido (Character),
Producer
$18.7M
1995

11%

35%

Beverly Hills Cop III
Det. Axel Foley (Character)
$41.5M
1994

13%

36%

The Distinguished Gentleman
Thomas Jefferson Johnson (Character)
$46.5M
1992

48%

59%

Boomerang
Marcus (Character),
Writer
$66.7M
1992

19%

35%

Another 48 HRS.
Reggie Hammond (Character)
$78.1M
1990

26%

80%

Harlem Nights
Quick (Character),
Director,
Screenwriter,
Executive Producer
$58.5M
1989

73%

85%

Coming to America
Prince Akeem/Clarence/Randy Watson/Saul (Character)
$128.1M
1988

46%

57%

Beverly Hills Cop II
Det. Axel Foley (Character)
$151.7M
1987

77%

85%

Eddie Murphy Raw
Self,
Writer,
Executive Producer
$48.8M
1987

21%

47%

The Golden Child
Chandler Jarrell (Character)
$78.1M
1986

No Score Yet

13%

Best Defense
Lieutenant T.M. Landry (Character)
-
1984

83%

82%

Beverly Hills Cop
Det. Axel Foley (Character)
-
1984

88%

85%

Trading Places
Billy Ray Valentine (Character)
-
1983

83%

90%

Eddie Murphy: Delirious
Self (Character)
-
1983

92%

69%

48 HRS.
Reggie Hammond (Character)
-
1982
TV