God Said 'Ha!'
(1998)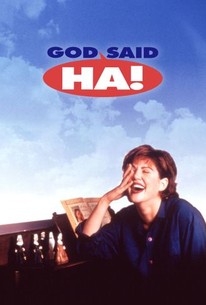 TOMATOMETER
AUDIENCE SCORE
Critic Consensus: God Said, Ha! plumbs poignant depths, but Julia Sweeney's sharp, graceful wit makes this one-woman monologue a wise, big-hearted burst of uplifting -- and perhaps therapeutic -- entertainment.
Movie Info
Julia Sweeney (Saturday Night Live) wrote and directed this one-woman show, an 85-minute emotional monologue, originally performed on Sunday evenings at the Un-Cabaret, a weekly alternative comedy showcase at LunaPark (West Hollywood). Expanded into a 1996 stage production, directed by Greg Kachel (now the film's co-producer), the show went to Broadway, followed by this filmed record (shot in two days). Divorced in 1995, Sweeney moved into her Hollywood bungalow with her three cats. One month later her younger brother Michael was diagnosed with terminal cancer. Her conservative parents left Spokane and moved into her bungalow along with Michael, and Sweeney had to cope with chemo and radiation treatments, doctors, and a variety of LA bureaucrats. Tragically, just before her brother's death from cancer, Sweeney was herself diagnosed with cervical cancer and was forced to cope with the disease from a different perspective. Impersonating her entire family, Sweeney recalls sleeping on her sofa bed, finding beer in her kitchen, and how daily routines with her parents led her on a guilt trip into her past. Executive producer Quentin Tarantino, who financed God Said, Ha!, makes a brief cameo appearance at the conclusion. Sweeney also wrote her material into a book, God Said, Ha!; A Memoir, published by Bantam in 1997. The title is taken from a greeting card a close friend once sent Sweeney during an illness. Shown at Austin's 1998 SXSW Festival.
Cast

Critic Reviews for God Said 'Ha!'
Audience Reviews for God Said 'Ha!'
I was never familiar with Julia Sweeney in any way. I've never watched any of her Saturday Night Live stuff, any of her other films, and none of her stand-up routines. I picked this film up on VHS out of curiosity and I'm glad that I did because I sure got a hell of a surprise out of it. The film is basically a stand up routine by Julia Sweeney on a single set where she talks about events of her life starting with a divorce from her husband a few years earlier. Hoping she would begin living a great single life as she dreamed, her world was suddenly turned upside down when her brother, Michael was diagnosed with cancer. After she moved him into her home, her parents soon moved in with her to help care for Michael and things begin to get really crazy for Julia ranging from small things like her parents bothering over small things, having to change the way she speaks to her parents, random events that happen to her, to major things regarding Michael and her own health problems that develop. With all these things that happen, she still finds darkly humorous elements to all these problems to cope with all the despair and heartbreak that occurs, but also talking about the good times and the funny times. It's basically all about finding humor in life, even during its darkest and most challenging days. It's about life, death, love, heartbreak, humor, and so much more in a way that never feels sappy or pretentious, but honest, sweet, and darkly funny. While a number of people don't like God Said, "Ha!" because it's basically a recording of Juila Sweeney giving a stand up routine on a single set, rather than having a moving plot, shall we say, I found myself absorbed and engaged just listening to her talk about all her stories, whether they were small, everyday things, or the challenging parts, I was never once bored simply listening. It made me laugh, it made me choke up, and I loved every story she told because she did so with such energy and life. She also managed to find an effective balance of humor and heartbreak, which is something many comedies struggle to do, but she also delivered and honest and sincere film that felt very real with her life stories. God Said, "Ha!" is one of the best film-watching surprises I've ever had, as well as being one of the best comedies I've ever seen. It's deceptively simple with its obviously low budget and single set for which she tells her stories, but her stories are what make it a more complex, engaging, and absorbing film that is brutally honest about life, while also finding the humor in the complexities of life. I loved every minute of it and it delivers in ways I can only wish most other dramedies could.
Keenan Sullivan
½
Quentin Tarantino executive produced this film version of Julia Sweeney's one woman show. Julia Sweeney recounts taking care of her brother during his battle with lymph cancer, having her parents move in, and her own battle with cervical cancer. The performance runs the gambit between absolute hilarity and the deeply touching. I highly recommend this movie. Best Quotes: "...I decided to do something a little unhealthy and dangerous. And for me, that meant I was gonna smoke myself a cigarette and buy the new book by the Pope." "I love my shunt!"
Darren Pierrot
Interesting concept with Julia Sweeney discussing cancer in the guise of a stand up routine...but it just doesn't work.
John Ballantine
Super Reviewer
God Said 'Ha!' Quotes
There are no approved quotes yet for this movie.
Discussion Forum
Discuss God Said 'Ha!' on our Movie forum!