God Said 'Ha!'
(1998)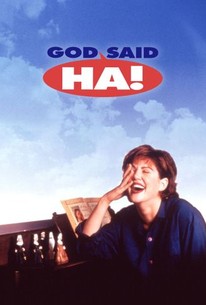 TOMATOMETER
AUDIENCE SCORE
Critic Consensus: God Said, Ha! plumbs poignant depths, but Julia Sweeney's sharp, graceful wit makes this one-woman monologue a wise, big-hearted burst of uplifting -- and perhaps therapeutic -- entertainment.
Movie Info
Julia Sweeney (Saturday Night Live) wrote and directed this one-woman show, an 85-minute emotional monologue, originally performed on Sunday evenings at the Un-Cabaret, a weekly alternative comedy showcase at LunaPark (West Hollywood). Expanded into a 1996 stage production, directed by Greg Kachel (now the film's co-producer), the show went to Broadway, followed by this filmed record (shot in two days). Divorced in 1995, Sweeney moved into her Hollywood bungalow with her three cats. One month later her younger brother Michael was diagnosed with terminal cancer. Her conservative parents left Spokane and moved into her bungalow along with Michael, and Sweeney had to cope with chemo and radiation treatments, doctors, and a variety of LA bureaucrats. Tragically, just before her brother's death from cancer, Sweeney was herself diagnosed with cervical cancer and was forced to cope with the disease from a different perspective. Impersonating her entire family, Sweeney recalls sleeping on her sofa bed, finding beer in her kitchen, and how daily routines with her parents led her on a guilt trip into her past. Executive producer Quentin Tarantino, who financed God Said, Ha!, makes a brief cameo appearance at the conclusion. Sweeney also wrote her material into a book, God Said, Ha!; A Memoir, published by Bantam in 1997. The title is taken from a greeting card a close friend once sent Sweeney during an illness. Shown at Austin's 1998 SXSW Festival.
Cast

Critic Reviews for God Said 'Ha!'
Audience Reviews for God Said 'Ha!'
Interesting concept with Julia Sweeney discussing cancer in the guise of a stand up routine...but it just doesn't work.
John Ballantine
Super Reviewer
I watched this because I had 3 people in my family diagnosed with cancer, two of them lost there lives too it. This movie honestly though hardly even talks about it. It merely uses these people being diagnosed to tell a bunch of mini stories that happend during the 9months her parents and family lived with her again. It's hardly funny. If I wanted to see something like this I would watch a stand up comedy night, not rent a movie. It's one woman, standing in one room, telling a boring and non-funny story for a long time. It's not good at all.
Bobby Hobbs
Super Reviewer
God Said 'Ha!' Quotes
There are no approved quotes yet for this movie.