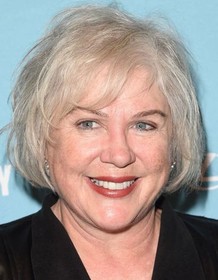 Julia Sweeney
Highest Rated: 86% God Said, Ha! (1998)
Lowest Rated: Not Available
Birthday: Oct 10, 1959
Birthplace: Spokane, Washington, USA
Julia Anne Sweeney was born on Oct. 10, 1959 in Spokane, WA. After graduating from University of Washington, Sweeney moved to Los Angeles, CA, where she took an accounting job at the movie studios Columbia Pictures and United Artists. All the while, Sweeney practiced improv with The Groundlings and co-wrote and starred in stage productions like "Mea's Big Apology," which debuted in 1988; she worked on the play with Stephen Hibbert, whom she married one year later. In 1990, Sweeney joined the cast of "Saturday Night Live" (NBC 1975-), remaining with the show until 1994. In addition to appearing in the "Coneheads" (1993) movie, Sweeney would bring her recurring character Pat to the big screen for the feature film "It's Pat: The Movie" (1994), which was poorly received by critics and audiences. That same year, she appeared in Quentin Tarantino's "Pulp Fiction" (1994). Her final "Saturday Night Live"-inspired film was "Stuart Saves His Family" (1995), around which time she also wrote and first performed her first theatrical monologue, "God Said HA!" The performance debuted in San Francisco, CA. After this, she went on to appear in the likes of the comedy "Vegas Vacation" (1997) and the family film "Stuart Little" (1999). Much of her work in the years to follow came in the form of voice acting, such as in the adult animated series "Baby Blues" (The WB/Adult Swim 2000-02). Afterwards, she wrote and performed two more monologues: "In the Family Way," which Sweeney debuted in New York City, NY in 2003, and "Letting Go of God," which she debuted in Los Angeles, CA in 2004. In addition to guest roles on many popular sitcoms, Sweeney performed in the Pixar film "Monsters University" (2013) and then took a regular role in the sitcom "Shrill" (Hulu 2019-), which starred fellow "Saturday Night Live" veteran Aidy Bryant. During this period, she also guest-starred on an episode of "Brooklyn 9-9" (Fox/NBC 2013- ) starring later-era SNL vet Andy Samberg.
Photos
Saturday Night Live, Julia Sweeney, 'Season 16', ©NBC
IT'S PAT, Julia Sweeney, Dave Foley, 1994, (c) Touchstone
CLOCKSTOPPERS, Robin Thomas, Lindze Letherman, Julia Sweeney, Paula Garces, Jesse Bradford, 2002 (c) Paramount. .
GOD SAID 'HA!', Julia Sweeney, 1998, (c)Miramax Films
IT'S PAT, Julia Sweeney, 1994, (c) Touchstone
Saturday Night Live, Julia Sweeney, 'Season 16', ©NBC
Saturday Night Live, Julia Sweeney, 'Season 16', ©NBC
IT'S PAT, Julia Sweeney, Dave Foley, Charles Rocket, Julie Hayden, 1994, (c) Touchstone
PULP FICTION, from left: Bruce Willis, Julia Sweeney, 1994, © Miramax
IT'S PAT, Julia Sweeney, 1994, (c) Touchstone
IT'S PAT, Julia Sweeney, 1994
IT'S PAT, Julia Sweeney, 1994, (c) Touchstone