Stuart Saves His Family
(1995)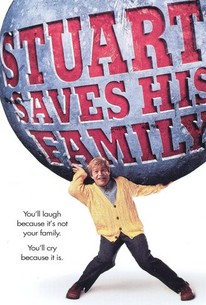 Movie Info
Al Franken brings his Saturday Night Live character Stuart Smalley to the big screen in this unexpectedly downbeat comedy about a man desperately trying to overcome his dysfunctional upbringing. Stuart hosts a TV show on public access TV in which he offers bits of New Age wisdom on self-help, often incorporating his trademark affirmation, "I'm good enough, I'm smart enough, and doggone it, people like me!" Too bad Stuart's advice doesn't work so well for himself; he barely supports himself as a waiter, his self-esteem is shaky at best, and his family is dominated by depressive alcoholics sunk in denial (for all his quirks, Stuart is the only Smalley willing to admit he has a problem). One day, Stuart's friend Julia (Laura San Giacomo) tells him that a cable network is looking for programming, and suggests he should pitch his show to them. Soon Stuart has a nationwide audience and is actually able to support himself, but that's small comfort when his family falls into another crisis. By turns a goofy comedy and a serious look at a dysfunctional family, Stuart Saves His Family does feature a few strong dramatic performances by Laura San Giacomo, Vincent D'Onofrio and Shirley Knight, and a distinctive comic turn by Julia Sweeney as a guest on Stuart's show.
People Who Like this movie also like
Critic Reviews for Stuart Saves His Family
Audience Reviews for Stuart Saves His Family
½
I liked the Stuart Skit on Saturday Night Live; it's a funny premise of self-help addiction. The movie wasn't too bad, but the characters got a bit annoying.
Lafe Fredbjornson
Super Reviewer
I'm not a fantatic of the Stuart character. This film directed by Harold Ramis was hilarious! I enjoyed watching the entire movie.
½
Wow . . . who woulda thunk it? Stuart Smalley is a memorable character from Al Franken's SNL days. I'm not sure I actually mean "memorable" in a good way here, but Smalley is not easliy forgotten. The SNL episode with Michael Jordan leaps to mind.
Here's an impromptu scale for movies that deal with addiction: Ray Milland in Lost Weekend on the heavy end, Jeff Bridges in Big Lebowski on the light end. Franken manages to deal with the problem of addiction in a way that's tipped to the Milland end: very serious, almost too serious, for what would appear to be a comedy.
Vincent D'Onofrio . . . may actually be the best job he's done. I'm no fan.
Really, flixster friends, not a bad movie at all. Love the picture in front of the Hollywood sign.
Lanning : )
Super Reviewer
Stuart Saves His Family Quotes
There are no approved quotes yet for this movie.