The Limit (Gone Dark)
(2003)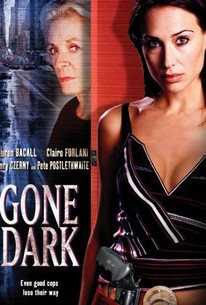 AUDIENCE SCORE
Critic Consensus: No consensus yet.
The Limit (Gone Dark) Photos
Movie Info
A cop takes desperate measures to protect her identity in this urban thriller. Monica (Claire Forlani) is a police detective who has been sent undercover to crack open a drug-dealing operation run by Gale (Pete Postlethwaite). However, maintaining her cover has taken a heavy toll on Monica -- she's become romantically involved with Gale, and is now addicted to heroin. To make matters all the more dangerous for her, Monica has also been having a relationship with Denny (Henry Czerny), Gale's second in command. Denny lives in the same apartment building as an elderly woman named May (Lauren Bacall); Denny and May often get each other's mail, and as a result occasionally pass misdirected letters back and forth. When Denny is found dead, Monica begins to suspect that May might have a package from Denny that could blow her cover and reveal her true identity to Gale; desperate to find out how much May knows and what she could prove, Monica takes her hostage, but neither is sure what Monica will do when her need for heroin takes hold. Produced under the title The Limit, Gone Dark was the first directorial effort from producer and assistant director Lewin Webb.
Critic Reviews for The Limit (Gone Dark)
There are no critic reviews yet for The Limit (Gone Dark). Keep checking Rotten Tomatoes for updates!
Audience Reviews for The Limit (Gone Dark)
½
it was ok but had many parts left unexplained and I was very disappointed in Lauren Bacalls acting, she is much better than that. the movie had enough violence and drama but with all the holes in the story it leaves much to be desired.
Stephanie Hill
[font=Arial Black][img]http://ai.pricegrabber.com/muze_images/Video/DVD/28/225028_118x160.jpg[/img][/font] [font=Arial Black]Plot: A thriller murder mystery, with a stellar cast, delves into the life of May (Lauren Bacall), an older woman living alone and desperately trying to maintain her independence. While dealing with her neighbors and the urging of friends to enter a nursing home, May intends to stay put. However, her peaceful life is thrown into chaos when her neighbor Denny (Henry Czerny) turns up murdered, and a mysterious woman (Claire Forlani) claiming to be a police officer asks for help. The ensuing web of drugs, organized crime, and murder pull in May, and she must find a way to stop the killing.[/font] [font=Arial Black][/font] [font=Arial Black]Iiiight no surprise this movie Gone Dark really sucks. It had potential but it just didn't deliver. The story was somewhat original but it wasn't really well explained especially when there's scenes jumping back and forth and past to present. It was really poorly edited and directed. Surprising the acting wasn't dat bad but the lead actress Claire Forlani who plays Monica an undercover special agent I guess who's in "too deep" blah blah blah give me a break she was horrible her acting was terrible, her dialogue wasn't great but was workable and she just wasn't good. Lauren Bacall was really good playing May an old women in the middle of the chaos. Pete Postlethwaite was really great I think the best performance playing Gale Carmody an insane Mobster I wish he was in more scenes and give some info on him and his crime organization. Other then those to performances everything else sucked. The story was really cheesy and trying to hard to be clever. Stay away from this movie.[/font]
Sammy Ruiz
The Limit (Gone Dark) Quotes
There are no approved quotes yet for this movie.
Discussion Forum
Discuss The Limit (Gone Dark) on our Movie forum!