Good Time
(2017)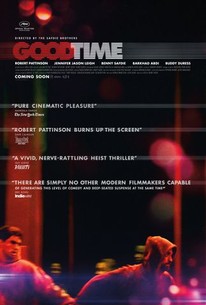 TOMATOMETER
Want to See
Critic Consensus: A visual treat filled out by consistently stellar work from Robert Pattinson, Good Time is a singularly distinctive crime drama offering far more than the usual genre thrills.
Movie Info
After a botched bank robbery lands his younger brother in prison, Constantine Nikas (Robert Pattinson) embarks on a twisted odyssey through New York City's underworld in an increasingly desperate-and dangerous-attempt to get his brother out of jail. Over the course of one adrenalized night, Constantine finds himself on a mad descent into violence and mayhem as he races against the clock to save his brother and himself, knowing their lives hang in the balance.
News & Interviews for Good Time
Critic Reviews for Good Time
Audience Reviews for Good Time
½
You know what? I did have a good time. Aside from the disorienting shaky cam and gratuitous close-ups, Good Time serves up a great character-driven thrill ride that more than exonerates Robert Pattinson from any of his previous roles and performances. At times, he seems to be channeling peak Vincent Gallo with his Aspergers sleaze and toxic masculine persona. After a semi-failed bank robbery, we are treated to one of the most intense opening credits sequences of the decade courtesy of the manic camerawork of Sean Price Williams and accompanied by Oneohtrix Point Never's nasty but tasty synth score. The music is like Tangerine Dream on crack, swaggering from Michael Mann to Nicolas Winding Refn to early Michael Haneke films in tone and style. The humor is black enough, and you wouldn't know it was humorous if you don't know people like the characters. They are gross, desperate, stupid, full of love, but more full of lust. And they're all on something except for Connie, Pattinson's character, aptly named for his propensity to blow smoke up everyone's ass then give them the slip. His only foil is his brother, an easily impressionable man-child with developmental disabilities. Aside from a superiority complex and profoundly poor decision making skills, Connie is well-equipped to manipulate his way past the cops, through the innocent, and into the underground - mostly because everyone around him is so naive, dumb, or predictable. Who can blame him for thinking he's better than everyone else when all he encounters is selfishness, fear, and incompetence? Sure it's not the best camera work I've ever seen, but Good Time is full of richly developed characters set off on a rat-race to the bottom of the barrel, and it would only be funnier if you didn't run into people like this every day in passing.
K Nife Churchkey
Super Reviewer
OF VICE AND MEN - My Review of GOOD TIME (4 Stars) Oh good God is this a good movie! I'm not familiar with the previous work of Benny and Joshua Safdie, aka the Safdie brothers or writer Ronald Bronstein (DADDY LONGLEGS, HEAVEN KNOWS WHAT), but if this blazingly intense, deeply felt crime thriller is any indication, I need to spend some time catching up with them. Clearly with this new film, they've studied the work of Sydney Lumet and Michael Mann, but they put enough of their own original, grimy spin on it to herald a potent new voice in cinema. Coming across with the immediacy of DOG DAY AFTERNOON coupled with the Tangerine Dream-y vibe of Michael Mann's THIEF, GOOD TIME stars Robert Pattinson as Connie Nikas, a small time crook who, along with his mentally challenged brother Nick (Benny Safdie - a stellar actor as well as director), embark on a harrowing escapade. Think Lenny and George from OF MICE AND MEN if they were stuck in the hellfire of New York City. When we first meet Nick, he's meeting with a mental health professional, who makes him terribly uncomfortable when asked a series of questions. Safdie's performance in this scene immediately draws us in to his vulnerability. As a standalone scene, it's a master class in empathetic screen acting. When Connie pulls him from this session, we see the brotherly love and can truly feel what's at stake for them. [MILD PLOT SPOILERS IN THIS PARAGRAPH] The fact that they immediately rob a bank shifts the viewer to recognize the right sentiment/wrong path of their actions. When Nick is caught and arrested, beat up in jail, and subsequently hospitalized, Connie spends the rest of the film trying to rescue his brother. It's this long, mostly real-time night which makes up the bulk of the story. [END SPOILERS] Connie is a classic, desperate hustler who improvises as he goes. Seemingly homeless and with few friends or resources, his sheer force of will and ability to suss up a situation allow him to survive moment to moment. We experience every decision, good or bad, every physical exertion, and all of the painstaking consequences. The role would have gone to Al Pacino were the film made in the 70s, and Pattinson, who has made some incredible choices post-TWILIGHT, doesn't waste the opportunity. He's alive, intense, and drives this steam engine with so much ferocity and passion. Despite his character's terrible choices, you'll find yourself rooting for him. Along the way, our main cast encounters a vivid group of characters along the way. Jennifer Jason Leigh does unhinged better than anybody, and here she shines, especially in a tense scene in which she fights with her mother over the phone while Connie negotiates with a bail bondsman. Their why-does-everything-go-wrong-in-my-life-but-I'm-trying-so-hard-to-keep-it-together reactions make this scene sing. Taliah Webster plays a latchkey kid living with her grandmother, and her no-nonsense attitude plays off beautifully against Pattinson. She's sucked into his vortex and doesn't care about the consequences because what he's offering is better than anything else going on at the moment. Buddy Duress (great and appropriate last name!) brings a fiery energy to his drunken, ex-con maniac. His sudden backstory, which just bursts out of nowhere, is one of the highlights of the film. It's great to see Academy-nominated Barkhad Abdi (CAPTAIN PHILLIPS) back in action and showing great range with his role here as a Security Officer who's in the wrong place at the wrong time. I love the look of this film, scuzzy neorealism but with such a thrusting, visual kick provided by cinematographer Sean Price Williams. Late in the movie, we're treated to a chase sequence seen solely from a high distance, and it's more heartstopping than if the camera were down on the ground. The 80's synth score, while propulsive, and yes, VERY reminiscent of Tangerine Dream, feels too intrusive at times. It's also a bit out of sync with the subject since the film has a more 70s set of references. Think of how Elton John's "Amoreena" was used in DOG DAY AFTERNOON for a more perfect example of a music and subject marriage. Regardless, I enjoyed how the score moved the story forward just as much as the script, performances, and photography did. Speaking of 70s references, the title card uses such an old school, ABC MOVIE OF THE WEEK font, complete with copyright date below. The final scene, an understated coda, plays over the entire end credits sequence. It perplexed me at first, but it's a fantastic ending in retrospect. I can't say enough good things about this little gem. Just go see it and enjoy every single knot in your stomach!
Glenn Gaylord
Super Reviewer
Good Time Quotes
There are no approved quotes yet for this movie.
Discussion Forum
Discuss Good Time on our Movie forum!