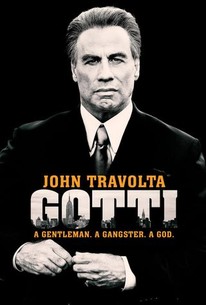 Gotti
2018, Crime/Drama, 1h 45m
59 Reviews
5,000+ Ratings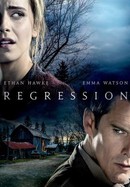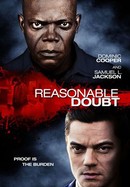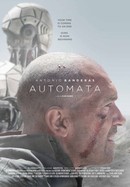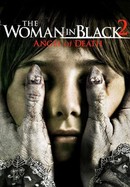 The Woman in Black 2: Angel of Death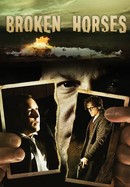 Where to watch
Rent/buy
Subscription
Rent/buy
Rate And Review
Movie Info
Raised on the streets of New York, young John Gotti found his way into the Gambino crime family, eventually having the boss removed and becoming head of the powerful family. His wife asked only one thing from John: to never expose their children to his profession. But he broke the vow, and John Jr. took his place as his father's Capo.
Rating: R (Strong Violence|Pervasive Language)

Genre: Crime, Drama, Biography

Original Language: English

Director: Kevin Connolly

Producer: Randall Emmett, George Furla, Marc Fiore, Michael Froch

Release Date (Theaters): wide

Release Date (Streaming):

Box Office (Gross USA): $4.3M

Runtime:

Distributor: Vertical Entertainment
News & Interviews for Gotti
Audience Reviews for Gotti
Bad, but not enjoyable bad. Just so boring and painful to watch

John Travolta stars as the notorious New York mobster John Gotti, the Teflon Don, in the compelling crime drama Gotti. The film follows the rise of John Gotti from a low level henchman to head of the Gambino Crime Family, along with his ultimate conviction and incarceration in federal prison. Travolta gives a strong performance and has a solid supporting cast that includes Kelly Preston and Stacy Keach. However, the writing is kind of weak. Told in flashback, it's not always clear when things are occurring or Gotti's position in the family hierarchy. Still, the storyteller motif, of Gotti telling his story to the audience, works fairly well. And the soundtrack and score are especially good and adds a lot of energy to the film. It comes off as a little bias (highlighting the support that he had on the street), but Gotti provides an interesting look at one of the most powerful crime bosses of New York City.

Gotti, a highly anticipated new mafia movie centered around the Dapper Don, has been nominated for Worst Movie of the Year and unfortunately, I have to agree. For starters, this film was all over the place! Was this film about John Gotti or his son? ...and who really cares about his actual family, there was a shitty reality show about that, what we really care about is his other family, and not the business side either. For a mafia film about one of it's biggest names in history, there is a distinct lack of violence or for that matter anything substantive. Everyone wanted to see the story of the man, not the story behind the man, and especially in a format of flash-forwards and flashbacks. As for John Travolta, I really don't know what he was thinking with this film. The only thing he has in common with John Gotti is the same first name, and watching him try to play John Gotti was as bad as watching Ben Affleck try to play Batman. The bottom line here is that this film was boring, just a lot of talk in a really bad accent. If you're looking for a good film on the Dapper Don, I suggest you go with another film named Gotti, produced in the mid-90s, starring Armand Assante. That film was great and told the story we wanted to hear. This film is nothing more than an bad autobiography brought to the screen by a man, who thinks he can play any role he wants.

"How 'bout the movies? You like - you like - whassat movie you like so much about spaghetti, 'Meatballs' or sumn. Go see that." Edited in a blender, this laughably bad biopic of the notorious John Gotti was mired in development hell over the last decade with something like 4 different directors and countless rewrites. The final product is an absolute mess of extremely violent spurts punctuating a boring series of clunky framing devices and Goodfellas-style narration. This is all exacerbated by an incomprehensible plot that would only make sense to someone who has intimate knowledge of Gotti's biography. John Travolta is on a full-boar ham-page chewing scenery and milking his hyperbolic Brooklyn accent rivaled only in its inauthenticity by Little Italy. There's so much unnecessary cursing in the dialogue it would make a sailor in a David Mamet play blush. Then Pitbull does the main theme, if that's any indication of the poor decisions being thrown about in this catastrophic love letter to a horrible criminal.
See Details