Gotti
(2018)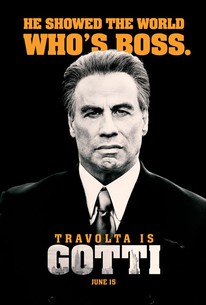 Movie Info
GOTTI follows infamous crime boss John Gotti's (John Travolta) rise to become the "Teflon Don" of the Gambino Crime Family in New York City. Spanning three decades and recounted by his son John Jr. (Spencer Rocco Lofranco), GOTTI examines Gotti's tumultuous life as he and his wife (Kelly Preston) attempt to hold the family together amongst tragedy and multiple prison sentences.
News & Interviews for Gotti
Audience Reviews for Gotti
The John Gotti biopic has become somewhat notorious because of its 0% rating on Rotten Tomatoes, not that this is the first film to hit that dubious mark. It is bad, though not quite 0% bad. The biggest crime of this movie is that it at no point solidifies a reason why we should find John Gotti interesting. As played by John Travolta, he's a ruthless leader who beat so many prosecutors that he was nicknamed the "Teflon Don." He's also really really boring, spouting stereotypical bromides about the importance of family, never giving an inch, never turning on your family (both capital F and lowercase f). It's a cock-eyed worldview I'd expect, however, at the very end of the movie, the movie itself adopts this cock-eyed justifications, presenting the federal government as the real villains and inserting interview footage of real people eulogizing Gotti, saying he made their streets clean and cared about his community and was, essentially, a hero. It's amazingly misguided, like director Kevin Connolly ("E" fro HBO's Entourage) has suffered Stockholm syndrome from his lunk-headed, murderous criminals. That same sense of misjudgment is never more adamant than in the musical score by pop star Pitbull. Read that again. There's a sequence where Gotti goes out on furlough and is escorted to kill an associate, and the musical score is jaunty and uptempo. There were several moments where the score just took my breath away, so tonally disjointed was this mostly modern-day musical score. The movie is structured as an ongoing series of interviews between Gotti Sr. (Travolta) and his adult son, with choice flashbacks interspersed. We don't even get a rise-and-fall sort of formula. It never provides sufficient evidence why Gotti was interesting at all and worth a big screen biopic. The dialogue feels like it was written with all exclamation points. Nothing is subtle or left to the imagination here, and that extends into the scenery-chewing acting as well from a bunch of unmemorable stock roles. There is also a 1996 TV movie about John Gotti starring Armand Assante. Sight unseen, it must almost assuredly be the better movie and more worth two hours of your precious time. Nate's Grade: D+
Nate Zoebl
Super Reviewer
Just got back from seeing this and I loved it!
David Tate, III
Super Reviewer
Gotti Quotes
There are no approved quotes yet for this movie.