Lady in White
(1988)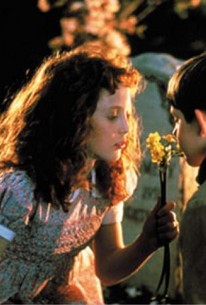 Movie Info
Young Lukas Haas is visited by the ghosts of ten children, all of whom had been molested and murdered. Haas can also vaguely make out the spectral identity of the killer. Seemingly guided by an otherworldly "Lady in White," Haas is alerted to the fact that the murderer is still at large, still willing and able to kill again. Though the subject matter would seem to preclude anyone under the age of 18 from seeing this film, Lady in White was let off easy with a PG-13 rating. Don't be lulled into a false sense of security: this one's a real hair-raiser.
Critic Reviews for Lady in White
Audience Reviews for Lady in White
It's Halloween 1962 in the small town of Willowpiont Falls, there's a child killer on the loose and - three years on from Peter Weir's Witness - little Lukas Haas still hasn't learned when to keep his eyes shut. Before anybody gets the wrong impression, I really enjoyed this. I just feel that writer/director/composer Frank LaLoggia maybe spreads his talent a little too thinly; that he should have polished the script some more before throwing himself into the multi-tasking. There are several plot points that just don't make any sense to me. Firstly, why the school cloakroom? Even before we consider the killer's Herculean effort disposing of the body and the ludicrous risk run in doing so, the cloakroom is already looking like a most unlikely venue for a murder. Does the school have some special significance for the killer? If so, I must have missed it. Secondly, we are informed that ten years ago the police found blood in the cloakroom and had reason to suspect that the girl was murdered there. Sounds fair enough, until we recall that we saw the girl die with our own eyes - and she was strangled! So where does the blood come from, in sufficient quantity to attract the attention of the police? Thirdly, after an interval of ten years the killer goes back to the scene of his crime to retrieve an incriminating article. Although the script does trouble to explain why he can't afford to wait any longer to do this, my question would be: why has it taken him this long to get around to it? With a handful of nicely judged, kindly/creepy performances, the identity of the killer is not quite a forgone conclusion from the outset; what is inevitable, however, is how he will eventually give himself away. The thing that bothers me about this is that Lukas Haas' character, Frankie, should not need any prompting here; he ought to know who the killer is as soon as this clue is presented to him.
It was a very unique but also very weird movie. There were many places that I outright screamed aloud. It was pretty scary.
Dannielle Albert
Super Reviewer
½
A young boy encounters the ghost of a murdered girl, resulting in his becoming the killer's next target. I must admit I really liked this film when I was younger, but 20 years on it hasn't really stood up very well. Essentially it's The Sixth Sense done in the style of The Goonies, and it doesn't really work. It definitely has it's moments, particularly the scenes involving the ghosts which are almost Tim Burtonesque, but the rest of the film is amateurishly directed and punctuated with particularly poor narration. The saccharine drenched family element is loaded with sentiment and stereotypes and the race message felt forced and tacked on. The last half an hour is pretty watchable, but more often than not, I found myself hitting fast forward, looking for the "good bits". I must be getting cynical in my old age!
Lady in White Quotes
There are no approved quotes yet for this movie.