Lady L
(1965)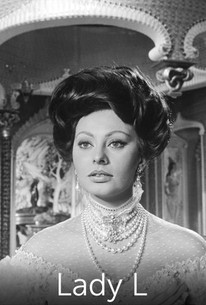 Movie Info
Lady L (Sophia Loren) is an 80-year-old woman who recalls her amorous adventures in flashback in this light sex comedy. While working as a laundress, Lady L falls for the gambler and anarchist Armand (Paul Newman), who gets mixed up with an inept group trying to assassinate the senile Prince Otto (Peter Ustinov). She ends up marrying the suave aristocrat Dicky (David Niven) in this entertaining but uneven feature.
Critic Reviews for Lady L
Audience Reviews for Lady L
For she's a jolly good fellow! Lady L is an elegant and beautiful baroness of sorts that recalls a faster lifestyle prior to her baron husband where life was fast, her man was faster, and she loved him deeply, but life was hard and money was harder and then she met her husband and life took a different direction... "This was not so much of a house as a house." Peter Ustinov, director of Secret Flight, Billy Budd, Memed My Hawk, Hammersmith is Out, Vice Versa, Private Angelo, and Romanoff and Juliet, delivers Lady L. The storyline for this picture is just okay but is fun to watch unfold and I loved the conclusion. The acting is excellent and the cast delivers awesome performances and includes Paul Newman, Sophia Loren, David Niven, Marcel Dalio, and Philippe Noiret. "I'm in no position to tell you to shut your mouth but I'd like to." I came across this on Turner Classic Movies (TCM) and had to DVR it based on it starring the marvelous Paul Newman and Sophia Loren. This was a little disappointing based on the excellent cast and their solid performances, but the story isn't as fascinating as I felt it could have been; however, the conclusion is perfect and makes this worth seeing once for fans of the classics. "Never tamper with a policeman's dignity." Grade: C+
Kevin Robbins
Experiment of starting and ending this pic with Sophia Loren as an 80-year-old, an alleged aristocrat with a somewhat simpering tedious voice, doesn't come off.
Greg Wood
Films like this one are why we love Sophia Loren for more than just her Obvious Beauty.A still Lovely, 80 year Old Aristocrat recounts her adventures with an Anarchist(Paul Newman) who she Passionately Loved & Followed into Revolution & Crime, & the Kindly Lord Lendale (David Niven) who married her to give her Child a Father, although the Marriage was never consummated, absolutely adored her.There are Capers, Jewel Heists, Mayhem,& Elegant Fashion that is so much the "Sophia Loren Style "of Film that keeps you delighted till long after the film ends.
Marilee Aschwanden
Discussion Forum
Discuss Lady L on our Movie forum!