Marebito
(2005)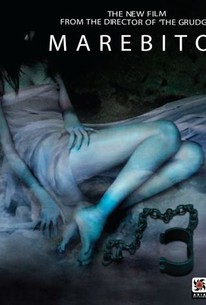 Movie Info
Terror takes on both human and mechanical form in this independent horror film from Japanese director Takashi Shimizu. Masuoka (Shinya Tsukamoto) is a freelance photographer who has become malignly obsessed with fear. Masuoka believes there is a physical component to terror, and he is determined to find it. While his rattrap apartment has become a shrine to documents of fear, he's particularly fascinated with a videotape of Furoki (Kazuhiro Nakahara), a disturbed man committing suicide in a Tokyo subway tunnel by stabbing himself in the face. Masuoka think if he can recreate Furoki's experience, he might be able to find out what he saw at the edge of panic, and after throwing away his antidepressants he makes his way down to the place where the suicide was recorded. Masuoka finds a mysterious passageway in the tunnel, and discovers Furoki is alive and unwell underground. Masuoka also learns of a strange breed of robots who terrify people both beneath the Earth and on the surface; he also finds a strange feral woman and attempts to rescue her, but someone else has already claimed her, and wants her back immediately. Marebito (aka The Stranger From Afar) stars Shinya Tsukamoto, himself a noted Japanese horror filmmaker, best known for his experimental feature Tetsuo (aka Ironman). ~ Mark Deming, Rovi
Critic Reviews for Marebito
Audience Reviews for Marebito
½
A slow but eerie and interesting bit of urban horror as a man enters a subterrainian hell via the metro system and finds a naked, animal-like woman who he brings to the surface in an attempt to tame her. There's more going on than meets the eye and it's down to the viewers patience to stay with it and get what you will from the plot, which isn't explained in great detail in some cases. I thought it was watchable and intriguing enough to see it through. It lacks the usual thrills that I look for in horror films, despite the occassional bloody moment. It's a decent effort overall, especially as it was made in just 8 days. But not my favourite from Shimizu, miles better than Shock Labyrinth though!
½
Cryptic, self-important pabulum, Marebito is just a cheap side project between the Grudge movies, as admitted by Takashi Shimizu himself. There's nothing like hiding a low budget and a total lack of ideas behind smoke, mirrors and psychobabble; J-horror in general does this, but it seems particularly fatuous here, as the film flirts with some concepts that would make it seem deep but really are complete dead ends. It name-drops Madame Blavatsky, Kaspar Hauser AND M.C. Escher in a span of about five minutes, but the climactic action is a schoolgirl getting stabbed on video camera, so there's a clear conflict of interest here. It's as if the movie thinks it's hot shit for flashing its intellectual feathers and then turning around and SHOCKING YOU with left-field violence, but seriously, zzzzz. This isn't to discredit Marebito completely, though. Maybe it's my long-standing bias for the genre, but it does achieve a basic sense of intrigue. There are some pretty sharp visual representations of voyeurism and the unknown, and the horror imagery sometimes works (but sometimes doesn't, such as the ridiculous-looking man in sunglasses). The performances are a mixed bag. Shinya Tsukamoto is bad as the insulated, unhinged loner, unable to rein in his inherent ridiculousness. Tomomi Miyashita fares better as F, although the part's degrading and not particularly wide expressively. They don't really seem to have much chemistry, which really causes the ending to fall flat, much like Marebito's other attempts to shock. It's a little bit more brutal than most of its compatriots, but also a lot dumber and a lot cheaper, and its attempts to depict madness really just make it risible. I can't recommend this to much of anyone, unless you're a total J-horror completist.
Drew Smith
Super Reviewer
½
There is something that?s always a litte different about Asian Horror, thou this one isn't one to send a chill up or down your spine, it does have its moments, like near the end of the film when our free lance camera man puts a box cutter in his mouth and slashes away. Story is about this cameraman and his dwell into the netherworld or sub world in which he finds a girl chained up in a cave, he rescues her to try and save her, only to find out she lives off Human Blood, ahh so now we have a serious problem. Worth 3 1/2 stars
Bruce Bruce
Super Reviewer
Marebito Quotes
There are no approved quotes yet for this movie.