Mr. Frost
(1990)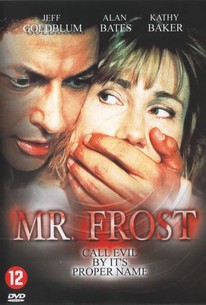 Movie Info
Mr. Frost, a serial killer with 125 deaths on his hands (Jeff Goldblum), is finally brought to justice by a British detective (Alan Bates). While in prison, Mr. Frost reveals to his psychiatrist (Kathy Baker) that he is in fact the Devil,sick and tired of the world's lack of belief in him.
Audience Reviews for Mr. Frost
A chilling, atmospheric supernatural thriller with fascinating premise, Mr. Frost is a seemingly normal and charming man, who has just been arrested for torturing and murdering 24 people including children in his home, then burying them in the garden of his large mansion. He reveals that he is not just a insane serial killer, but that he is the Satan himself, and there in lies the tale. Frost has not said a word since he was incarcerated two years ago, he is transfer from prison to a special psychiatric institute in the hopes they can reach him. All efforts to find out who he is has failed, Frost is truly a man with no past or identity. Strange things begin to happen shortly after his arrival at the institute, causing a doctor superbly played by Kathy Baker to believe his claim, the police inspector who arrested Frost, played by the great Alan Bates comes to the aid of the doctor, who is now threaten by this strange man who is pure evil incarnate. Well-directed and written story, with a standout mesmerizing performance by Jeff Goldblum as Mr.Frost, it is without doubt one of the finest performances of his career. A memorable and entertaining character study. Highly Recommended.
Danny Rovira
Super Reviewer
½
The Best Part of this movie is when the Detective asks about the Body in the car And he replies wy yes I had Just finished burying it When you arrived hahaha the look on the Detectives face ( Priceless) This Movie Is Best for those who Have Deep insight.. I would love to see A Remake of this With Goldblum or A Sequel Twould be nice ;p ...
angel marth
(** 1/2): Thumbs Down The concept of the film intrigued me but the overall execution just didn't work. A near-miss.
TTT C
Mr. Frost Quotes
There are no approved quotes yet for this movie.
Discussion Forum
Discuss Mr. Frost on our Movie forum!