Natural Selection
(2012)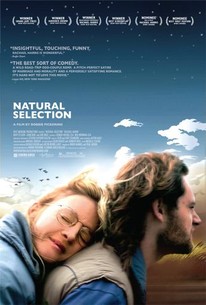 Movie Info
Linda White (Rachael Harris), a devoted Christian housewife, leads a sheltered existence in suburban Texas. Her world is turned upside-down when she discovers that her dying husband, Abe, has a 23-year old illegitimate son named Raymond (Matt O'Leary) living in Florida. Somewhere on the edge of guilt and loneliness, Linda grants Abe's final wish and sets off on a quixotic journey to find Raymond and bring him back. Along the way, Linda's wonderfully bizarre relationship with Raymond will teach her more about herself than she ever imagined possible and force her to come to terms with her troubled past. -- (C) Cinema Guild
News & Interviews for Natural Selection
Critic Reviews for Natural Selection
Audience Reviews for Natural Selection
½
A quirky coming of age story for someone old enough to be your mother! The chemistry between 2 polar opposites (Rachael Harris and Matt O'Leary) is what made this film brilliant!
Juli Norwood
Benefiting greatly from a riveting performance from Rachel Harris, Natural Selection is a great film about self-discovery. Although not as strong as other movies about religious repression (see Higher Ground), writer/director Robbie Pickering's glimpse into the life of devoted housewife Linda is still remarkable in its own right. From darkly comedic moments to quietly emotional scenes, Pickering understands how to inject humanity into ever odd character. Matt O'Leary continues to prove himself to be an actor worth watching. After his performance in Fat Kid Rules the World and this incredible (albeit similar) portrayal of a swindling addict burns his name and face into the memory of moviegoers. With a great supporting cast and clever scripting, Natural Selection is definitely worth a viewing and maybe even a second. For more movie reviews visit: www.reelfive.com
Nathan Martin
½
It's a shame this movie has gone fairly unnoticed since Rachael Harris turns in a pretty tremendous performance as this repressed woman whose husband has refused to have sex with her for 20+ years since she isn't able to have children. Abe, her husband believes, that since Linda cannot have children then they shouldn't have sex simply for pleasure as 'it is what the lord wants'. The irony of it is that every week for 20+ years Abe has been going to a sperm donation agency and jerking off into a cup so who knows how many children he has actually fathered. During his last visit Abe has a heart attack and that's the basis of Linda's journey as during one of her visits to the hospital, Abe starts to mumble and Linda, whether accurately or not, makes out that she should go and bring his son to his side. This really isn't unlike other indie road trip movies, but it's still really good with great writing and great acting. Rachael gives a very sympathetic portrayal of this woman who pretty much is completely out of her element on the road and how she finally comes out of her shell that's she's kept herself in for all this time to be a supportive wife to a man who's lied to him for 20+ years. She has great chemistry with Matt O'Leary, who's really good as well. He has the dirty, grimy look that's a good contrast to Linda. The movie is funny, it's not hilarious but it is funny with some clever lines, well there's one really clever line during the porn movie that Abe is watching when he has his heart attack. But the writing is still very solid with great character development and great interactions between the leads. The movie ends up becoming a romantic comedy and in some cases it would end up hurting the movie. In this case, it doesn't. It doesn't benefit it either, but it's more important that it didn't detract from the movie. And the ending is also good seeing Linda choose to make her own path by herself, that was pretty cool and satisfying. That's about it really, damn good movie highlighted by an excellent performance by Rachael Harris. If you have Netflix Instant, then I'd recommend it, even if it's not really a movie that's worth going out of your way to see.
Jesse Ortega
Super Reviewer
Natural Selection Quotes
| | |
| --- | --- |
| Sheila: | Now if you'll excuse me, I have children to attend to. They're our most important resource Linda. |
| | |
| --- | --- |
| Raymond: | " I could get a dude pregnant." |
| Raymond: | I could get a dude pregnant. |
| | |
| --- | --- |
| Linda: | When meeting Raymond- "So...do you have any hobbies, or aspirations.....or pets? |
| Linda: | [when meeting Raymond] So...do you have any hobbies, or aspirations.....or pets? |
| | |
| --- | --- |
| Sheila: | " ...but don't mind me or my starvin' baby"! |
| Sheila: | ...but don't mind me or my starvin' baby! |
Discussion Forum
Discuss Natural Selection on our Movie forum!