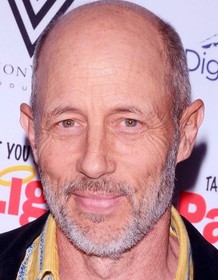 Jon Gries
Highest Rated: 100% Waterborne (2005)
Lowest Rated: Not Available
Birthday: Jun 17, 1957
Birthplace: Glendale, California, USA
"Wolfman's got nards!" This line from the campy horror flick "The Monster Squad" (1987), directed at Jon Gries' vicious but vulnerable werewolf, neatly sums up the veteran character actor's career: tough characters with soft hearts. His father, director Tom Gries, cast him in his movies such as "Will Penny" (1968) and the made-for-TV "Helter Skelter" (CBS, 1976), but the young actor quickly struck out on his own, appearing in cult '80s movies such as "Real Genius" (1985). By the 1990s he'd moved over to TV, landing memorable roles on "Beverly Hills, 90210" (Fox, 1990-2000); "Martin" (Fox, 1992-97); and "The Pretender" (NBC, 1996-2000). After appearing in "Get Shorty" (1995), Gries landed a breakout role as Uncle Rico in the surprise hit "Napoleon Dynamite" (2004) and joined the sprawling cast of "Lost" (ABC, 2004-2010). A self-professed late bloomer, Gries directed his first film, "Pickin & Grinnin," in 2010, before landing his first voice acting role on the animated "Napoleon Dynamite" (Fox, 2012). Though he may not have followed in his father's Emmy-winning footsteps, Jon Gries has made some distinct impressions of his own.
Photos
Jon Gries
SEPTEMBER DAWN, Jon Gries, 2006. ©Black Diamond Pictures
GLASS JAW, FROM LEFT: KORRINA RICO, JON GRIES, 2018. © VISION FILMS
NAPOLEON DYNAMITE, Jon Gries, 2004, (c) Fox Searchlight
NAPOLEON DYNAMITE, Aaron Ruell, Jon Heder, Jon Gries, 2004, (c) Fox Searchlight
JACKPOT, (top l-r): Jon Gries (second from left), Garrett Morris, Daryl Hannah, (bottom l-r): Anthony Edwards (second from l.), Crystal Bernard, Adam Baldwin, 2001, ©Sony Pictures Classics
JACKPOT, Jon Gries, Camillia Clouse, 2001
JACKPOT, Jon Gries, 2001. (c) Sony Picture Classics.
SEPTEMBER DAWN, Jon Gries (right), 2006. ©Black Diamond Pictures
NAPOLEON DYNAMITE, Jon Gries, Jon Heder, Aaron Ruell, 2004, (c) Fox Searchlight
REAL GENIUS, (aka PROFESSION: GENIE), standing from left: Mark Kamiyama, Michelle Meyrink, Val Kilmer, Gabriel Jarret, Jon Gries (seated), 1985, © TriStar
AROUND JUNE, Jon Gries, 2008. ph: Stephen Kopels/©Indican Pictures
THE SASQUATCH GANG, (aka THE SASQUATCH DUMPLING GANG), Jon Gries, 2006. ©Sony BMG Music Entertainment
WILL PENNY, Jon Francis, Joan Hackett, 1968
WILL PENNY, Joan Hackett, Jon Francis, Charlton Heston, 1968
SEPTEMBER DAWN, Jon Gries (second from left), 2006. ©Black Diamond Pictures
Psych, Dulé Hill (L), James Roday (C), Jon Gries (R), 'One, Maybe Two, Ways Out', Season 5, Ep. #9, 09/08/2010, ©USA
Psych, Jon Gries, 'One, Maybe Two, Ways Out', Season 5, Ep. #9, 09/08/2010, ©USA
JACKPOT, Adam Baldwin, Garrett Morris, Jon Gries, 2001
THE RUNDOWN, Ernie Misko, Jon Gries, Christopher Walken, Stuart Wilson, 2003, (c) Universal