Will Penny
(1968)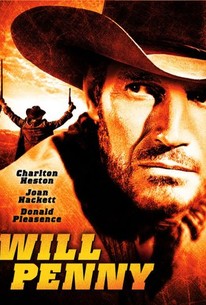 Movie Info
In this western, Will Penny is an aging and impoverished cowboy who stops over at the temporary frontier home of Catherine. She herself is en route to join her husband. Despite her wedding vows and the presence of her young son, Catherine finds herself drawn to Penny.
Critic Reviews for Will Penny
Audience Reviews for Will Penny
WILL PENNY-Released by Paramount Pictures. Running Time: 112 minutes. MPAA Rating: "M"-Mature Audiences-Parental Guidance Suggested.(For scenes of Western Violence and Strong Language). Released: 1968. -One of the best adult Westerns made to date and one of the more mature Westerns to come out of the 1960's,comes writer-director Tom Gries(who was most known for his television work for TV shows like The Rat Patrol)casts Charlton Heston(in one of the greatest roles in his career,and also he quoted as one of his favorite films)in the title role of a cowboy who patrols for trespassers and rustlers on a huge ranch,who protects two uninvited visitors,a mother and her son from vicious outlaws in 1880's Montana. Gries' son Jon Gries,aka Jon Francis plays the boy while actress Joan Hackett portrays his mother who protects her son from the vicious outlaws(Donald Pleasence, Bruce Dern and Lee Majors). The film was very good in bring a more darker side of ranch life in the Old West. Excellent character study in one of Charlton Heston's best roles.
Mister Caple
Super Reviewer
Will Penny Quotes
There are no approved quotes yet for this movie.