Night of the Comet
(1984)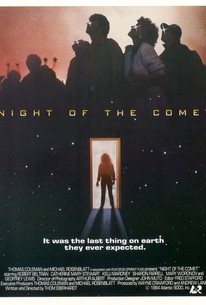 Night of the Comet Photos
Movie Info
In this sharp-witted sci-fi disaster outing, a comet smashes into California leaving a pair of Valley girls and a few others alive. When the ladies finally figure out what happened, the twosome embark upon an unprecedented shopping spree, for while all humans were vaporized, their clothing was left intact.
People Who Like this movie also like
Critic Reviews for Night of the Comet
Audience Reviews for Night of the Comet
Campy cult classic that combines post-apocalyptic drama with flesh eating zombies and parachute pants.
Randy Tippy
Super Reviewer
Average tongue in cheek Sci Fi horror comedy, Night of the Comet is an underrated gem for 80's low-budget cinema. Night of the Comet may not be the best horror film of the 80's, nonetheless it's still worth your time. The concept is fairly simple, a comet flies by Earth killing everyone aside for a few survivors. They go on a shopping spree, but they come face to face with Zombies, crazy criminals and mad scientists bent on survival. Night of the Comet is really a blend of different styles of horror. The question is, does it work? Yes, it does. But the film does struggle at times at delivering something effective. Despite the uneven script, Night of the Comet is still a fun cheesy sci fi horror comedy that will please fans of 80's horror flicks. Sure the film won't win any prizes, but if you're one of those horror fans that enjoy cheesy horror at its finest, then look no further than Night of the Comet. The film has the necessary elements to make it an enjoyable film, but there's some on-screen material that does fall flat. Despite this, director Thom Eberhardt crafts a good film that will appeal to cheesy horror film fans. Night of the Comet is flawed but loads of fun. If you're a die-hard horror fan and want to spend a night with friends and watch something that's pure cheese, then this is the type of film for you to watch. The plot may be ridiculous, but that goes for every type of film of this caliber. Night of the Comet along with Killer Klowns from Outer Space and Motel Hell is probably one of best examples of good cheesy horror. Don't pass up on this one.
A teen version of the apocalypse, that's what this is, which may sound bad, but it's so bad it's good. I really liked this movie, and I highly recommend it.
Night of the Comet Quotes
| | |
| --- | --- |
| Samantha: | Great car. |
| DMK: | Thanks, I have twenty three of them. Would you like to go for a ride? |
| Samantha: | More than you know. |
| | |
| --- | --- |
| Samantha: | You're not going to blame me because the phone went dead, I'm not the phone company. Nobody is the phone company anymore! |
| | |
| --- | --- |
| Samantha: | Muffy? Stupid dog. |
| | |
| --- | --- |
| Samantha: | I can't get anybody on the phone. |
| Regina: | Sammi, you can't get anybody on the phone because everybody's gone. They're all gone. |
Discussion Forum
Discuss Night of the Comet on our Movie forum!