Noordzee, Texas (North Sea Texas)
(2012)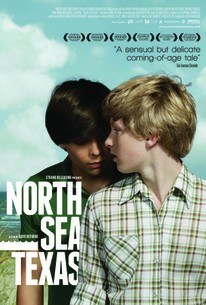 Noordzee, Texas (North Sea Texas) Photos
Movie Info
Pim, an introverted child, occupies his time drawing and fantasizing while keeping his emerging desires a secret. As a teenager, he grows infatuated with Gino, the handsome boy next door. When a hunky young man from the local fair starts living with Pim and his mother, he seizes the opportunity to leave home and move in with Gino's family. His plan backfires as Gino departs, romancing and living with a girl from across the border. It seems like Pim's dreams will never come true, but then one rainy day Gino returns home. (c) Strand
News & Interviews for Noordzee, Texas (North Sea Texas)
Critic Reviews for Noordzee, Texas (North Sea Texas)
Audience Reviews for Noordzee, Texas (North Sea Texas)
A frustrating drama that uses a teenage boy's sexual awakening to shape a narrative that drags so unforgivably and seems constructed solely around endless silences, "meaningful glances" and contrived situations, and it doesn't help a bit that the acting is terrible.
Carlos Magalhães
Super Reviewer
½
Beautifully shot, nostalgic piece that effortlessly, albeit not originally, explores sexuality and adolescence, with deft performances from the three young leads.
Daniel Parsons
Super Reviewer
½
When it comes to romance movies most of us are use to seeing that story romance unfold with straight people. Thankfully did is nothing like tells a romance story with gay people and it's pretty good. Noordzee, Texas (North Sea Texas) is about a teenage boy's search for love finds him fixated on the boy next door. The plot is pretty straightforward and little subplots. This means the story becomes complex nor does it attempt to break new ground. To the movie credit it portray gays as actual people you would actually see in the streets and is very respectful of that. The cast is fine I guess, though they never get to shine to the material expanding on it's premise or taking advantage of it's characters relationship. While it's nothing great, it certainly was a good watch. I just simply enjoy it for what it is and what it does well. While there's much to say about this movie, there's allot to enjoy. Noordzee, Texas (North Sea Texas) is romance movie between two guys done well and avoid the offensive stereotype of gays to portray them as regular people. It's respectful, well made, and good entertainment. It worth watching no matter what gender you're into.
Caesar Mendez
Super Reviewer
Noordzee, Texas (North Sea Texas) Quotes
There are no approved quotes yet for this movie.