Quintet
(1979)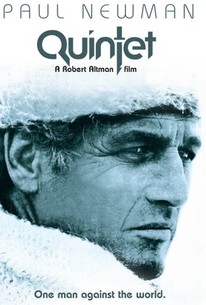 Movie Info
Perhaps the least seen but most talked about film of Robert Altman's career, Quintet is a somber science fiction tale that takes place after a nuclear holocaust has thrown the world into another Ice Age. A man named Essex (Paul Newman) and his pregnant wife Vivia (Brigitte Fossey) are wandering the desolate, frozen landscape and attempting to find Essex's brother, Francha (Tom Hill). They finally locate him in a frozen city, occupied by a number of apocalyptic survivors who who pass their time playing a mysterious game called "Quintet." No one is able to explain just how it is played, but Grigor (Fernando Rey) appears to act as the referee, and the stakes of the game are unusually high - losing means being thrown out into the snow and devoured by Rottweilers. Francha is soon killed, not as a casualty of Quintet per se, but for playing an assassination game on the side to relieve his own ennui. As 'collateral damage,', Vivia and the rest of Francha's family are soon extinguished as well. Essex is not happy with the way they've been rubbed out, but as he attempts to seek revenge, he is only drawn deeper into the lethal competition of Quintet. While this picture received negative reviews on its initial release, in retrospect it is worth noting that the photography (by Jean Boffety) and production design (by Leon Ericksen) are beautiful and striking, and that the film boasts one of Altman's strongest international casts, including Vittorio Gassman, Nina Van Pallandt, and Bibi Andersson, as befits its European-art-movie ambiance; the influence of the equally opaque, allegorical, game-playing Last Year at Marienbad (1961) is especially strong. ~ Mark Deming, Rovi
Critic Reviews for Quintet
Audience Reviews for Quintet
Quintet was a movie that was above all about Climate Change scare of the 1970's, except of course it was Global Cooling. With that mode in mind this movie projects the abject hopelessness of the future. Man would perish slow in a whimper on Glacial slow suspense and fear. The movie starts with Paul Newman,with his pregnant wife, returning to a city where all the elites of North America had taken refugee and Paul had been born. He had left his family and ventured onto the ice and it is with hope that he returns for his soon to be born child. Once there, the abject slow destruction of mankind becomes apparent. No heat might well be the singular catch phrase for this part of the movie. The rest develops into a cat and mouse game where Paul seeks vengeance . The movie was just as interesting a 'Little Big Man' or any of the movies from the 70's and their fatalistic outlook upon mankind's future. If you want to view the midset of 1970's Hollywood this would be great movie. The entire vision of life in a New Ice Age is worth the price of admission.
Shannon Doran
A post-apocalyptic science fiction movie plot as disconsolate as the snowy backdrop in which it was filmed. Frigid characters, stilted acting, and slow pacing.
r l
½
This had to be one of the most boring Sci-Fi movies ever - and it had Paul Newman in it.
Sean Gillespie
Super Reviewer
Quintet Quotes
There are no approved quotes yet for this movie.
Discussion Forum
Discuss Quintet on our Movie forum!