The Replacement Killers
(1998)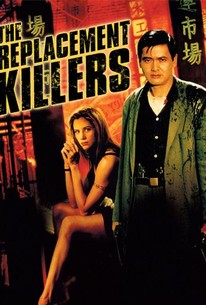 The Replacement Killers Photos
Movie Info
In this Hong Kong action thriller, Chinese immigrant Lee used to be a professional killer. In order to protect his family, Lee is forced by gangster Wei to kill a police detective's seven-year-old son. Lee chooses to face Wei's vengeance rather than go through with the killing.
Critic Reviews for The Replacement Killers
Audience Reviews for The Replacement Killers
A blistering, stylish, explosive and undeniably cool groove of an action movie. Director, Antoine Fuqua does here what Director, John Woo has done delivering plenty of excitement and energy. A hard-boiled action-thriller fueled with amazing gun-battles and a riveting performance by Chow Yun-Fat. An unforgettable adrenaline-rush from start to finish. An unstoppable and wickedly entertaining action-packed flick that delivers the goods.
When a hired assassin fails to kill the young son of a detective for a ruthless drug runner, he and a hapless forger are hunted by his replacements. In this, Chow Yun Fat's Hollywood debut, he revisits his familiar assassin with honour character in a fairly standard action thriller. There's very little imagination or originality on display; the script does little more than contrive ways to keep our hero and the girl together while extras in bad suits with machine guns chase them around. Having said that, there's very little actually WRONG with it either. Chow is as charismatic as ever, Mira Sorvino is knuckle-bitingly cute and the set pieces are reasonably well handled. It avoids schmaltz and lame love scenes and at less than 90 minutes is wise enough to not outstay its welcome. Brainless yes, but the charisma of its star raises it (slightly) above the bog standard and its far from the worse US debut an Asian action star has had to endure.
½
A very cool stylized action film with plenty of shoot outs and a good cast. If you missed this it's well worth a watch.
The Replacement Killers Quotes
There are no approved quotes yet for this movie.