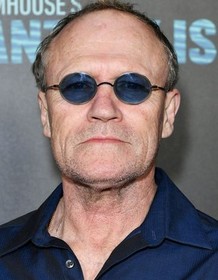 Michael Rooker
Highest Rated: 100% Bastard Out of Carolina (1996)
Lowest Rated: 6% Super Capers (2009)
Birthday: Apr 6, 1955
Birthplace: Jasper, Alabama, USA
Michael Rooker's harrowing turn in "Henry: Portrait of a Serial Killer" (1986) minted him as an in-demand character actor specializing in intense and often dangerous characters in "Mississippi Burning" (1988) and "JFK" (1991), but he would not achieve true mainstream stardom until the 2010s with exuberant and even sympathetic performances on "The Walking Dead" (AMC, 2010- ) and in the Marvel Films cult favorite "Guardians of the Galaxy" (2014). Born in Jasper, Alabama on April 6, 1955, Michael Rooker relocated to Chicago, Illinois with his mother and eight siblings after the divorce of his parents. There, his family struggled to make ends meet and put him and his brothers and sisters through school. Initially, Rooker viewed the Marines as his career of choice, but after landing roles in productions, he shifted his focus to acting. He gained entry to the prestigious Goodman School of Drama, and then made a name in local theater productions. Bit roles in television and film productions lensed in the Windy City soon followed, with his breakthrough, "Henry: Portrait of a Serial Killer," coming in 1986. Directed in stark, realistic tones by Chicago filmmaker John McNaughton, the indie horror-drama followed Rooker's brooding, monstrous loner - based on real-life serial killer Henry Lee Lucas - as he cut a swath of death through the underbelly of a rotting industrial city. His unnerving performance - equally vulnerable and menacing - earned Rooker an Independent Spirit Award nomination and the attention of Hollywood casting agents, who tapped him for a wide variety of projects. Many of his early roles were in the vein of "Henry," like a brutish Klan member in Alan Parker's "Mississippi Burning" and a psychopathic husband in "Sea of Love" (1989). But he soon added more sympathetic roles to his growing c.v., including an assistant district attorney that challenged Kevin Costner's Jim Garrison in Oliver Stone's "JFK" (1991) and Tom Cruise's racing rival turned friend in "Days of Thunder" (1991). He soon settled into a string of character turns that tapped his imposing physicality - Rooker held a black belt in martial arts - in order to provide believable support to such veteran action stars as Sylvester Stallone in "Cliffhanger" (1993), Kurt Russell in "Tombstone" (1993), Chow-Yun Fat in "The Replacement Killers" (1998) and Arnold Schwarzenegger in "The Sixth Day" (2000). But he also remained a consistent presence in dramas, most notably as Jena Malone's supportive uncle in Anjelica Huston's "Bastard Out of Carolina" (Showtime, 1996), and even the occasional comedy like Kevin Smith's "Mallrats" (1996). As he entered into his third decade as an actor in the late '90s and 2000s, Rooker remained extraordinarily busy with both feature and television appearances; though many of these were unremarkable horror or suspense projects for the direct-to-video or -cable market, a few stood out from the pack, including Walter Hill's "Undisputed" (2002) and "Slither" (2006), an amusing horror comedy directed by "Scooby-Doo" (2002) and "Dawn of the Dead" (2004) writer James Gunn. Rooker would go on to become one of Gunn's repertory players, appearing in nearly all of his directorial projects, including the violent comic book spoof "Super" 2010), while also enjoying something of a comeback as repentant redneck Merle Dixon on AMC's hit horror series "The Walking Dead." In 2014, Gunn cast Rooker as the blue-skinned intergalactic bounty hunter Yondu Udonta in "Guardians of the Galaxy," an adaptation of a relatively obscure Marvel Comics title. The film was an unqualified critical and box office success, and led to an even more popular sequel, "Guardians of the Galaxy Vol. 2" (2017), which provided Rooker with what was arguably his most affecting on-screen moment when he confessed his fatherly love for Chris Pratt's hero, Peter Quill, seconds before his death. The success of both "Guardians" films reignited Rooker's film and television career, and led to his casting in such high-profile projects as the third season of HBO's "True Detective" (2014- ), Blumhouse Pictures' horror revamp of "Fantasy Island" (2020), the ninth entry in the "Fast & Furious" franchise (2020) and "The Suicide Squad" (2021), which marked Gunn's writing and directing debut for DC Films.
Photos
Michael Rooker
BOLDEN, MICHAEL ROOKER, 2019. PH: FRED NORRIS/© ABRAMORAMA
BOLDEN, MICHAEL ROOKER, ERIK LARAY HARVEY, IAN MCSHANE, 2019. PH: FRED NORRIS/© ABRAMORAMA
EIGHT MEN OUT, (Back, L-R), John Cusack, D.B. Sweeney, Perry Lang, Charlie Sheen, James Read, David Strathairn. (Front L-R), Don Harvey, Michael Rooker, 1988. (c)Orion Pictures.
CLIFFHANGER, Leon, Michael Rooker, 1993, (c) TriStar
MISSISSIPPI BURNING, Michael Rooker, Brad Dourif, Gene Hackman, 1988, © Orion Pictures/
EIGHT MEN OUT, Bill Irwin, D.B. Sweeney, Charlie Sheen, & the team, 1988. (c)Orion Pictures Corp.
TOMBSTONE, Buck Taylor, Kurt Russel, Peter Sherayko, Val Kilmer, Michael Rooker, 1993, (c) Buena Vista
TOMBSTONE, Kurt Russell, Michael Rooker, 1993, (c) Buena Vista
DECEIVER, Chris Penn, Tim Roth, Michael Rooker, 1997, (c) MGM
THE SIXTH DAY, Sarah Wynter, Arnold Schwarzenegger, Michael Rooker, 2000
TOMBSTONE, Buck Taylor, Val Kilmer, Kurt Russell, Michael Rooker, Peter Sherayko, 1993. ©Buena Vista Pictures
CLIFFHANGER, Sylvester Stallone, Michael Rooker, 1993, (c)TriStar Pictures
Talking Dead, Michael Rooker, 'Season 6', ©AMC
Talking Dead, Michael Rooker (L), Aisha Tyler (R), Aisha Tyler and Michael Rooker, Season 1, Ep. #5, 11/13/2011, ©AMC
Talking Dead, Michael Rooker, Aisha Tyler and Michael Rooker, Season 1, Ep. #5, 11/13/2011, ©AMC
Talking Dead, Michael Rooker (L), Aisha Tyler (R), Aisha Tyler and Michael Rooker, Season 1, Ep. #5, 11/13/2011, ©AMC
Talking Dead, Michael Rooker (L), Aisha Tyler (R), Aisha Tyler and Michael Rooker, Season 1, Ep. #5, 11/13/2011, ©AMC
Talking Dead, David Morrissey, Michael Rooker, Reggie Watts, Chris Hardwick, Gregory Nicotero, This Sorrowful Life, Season 2, Ep. #15, 3/24/2013, ©AMC
Talking Dead, David Morrissey, Michael Rooker, Reggie Watts, Gregory Nicotero, This Sorrowful Life, Season 2, Ep. #15, 3/24/2013, ©AMC