Roger Corman's Death Race 2050
(2016)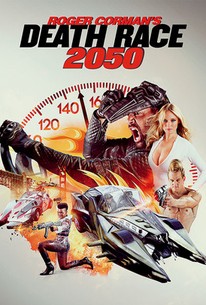 Roger Corman's Death Race 2050 Photos
Movie Info
Souped-up speed demons race in a murderous rally across a futuristic United States where every city is named after a megacorporation and every hit-and-run "accident" is scored for points. This dystopian action thriller produced by B-movie legend Roger Corman is the sequel to his 1975 cult classic Death Race 2000.
Critic Reviews for Roger Corman's Death Race 2050
Audience Reviews for Roger Corman's Death Race 2050
Complete garbage, Roger Corman's Death Race 2050 is a trashy low-budget exploitation film. It's basically a badly done remake of Death Race 2000, but lacking the clever satire and artistic vision. The acting (if it can be called such) is terrible, and the sets and costumes look incredible cheap and gaudy. And the social commentary is as subtle as a sledge hammer to the face. Roger Corman's Death Race 2050, which isn't directed by Roger Corman, is a hackneyed piece of sh** that's not even fit for the SyFy channel.
Dann Michalski
Super Reviewer
In true Corman fashion, it's bloody awful. But this is exactly how I like my trash.
I suppose you could call this the real remake to Death Race 2000 as it's the same plot but obviously set in 2050 as the year 2000 has been and gone, Anyway this remake is complete garbage, The acting is terrible the script was stupid, The effects were poor and the death race itself was boring, A few gory kills every now and then but still don't waste an hour and a half of your life on this, You have been warned.
Jamie Clarke
Super Reviewer
Roger Corman's Death Race 2050 Quotes
There are no approved quotes yet for this movie.